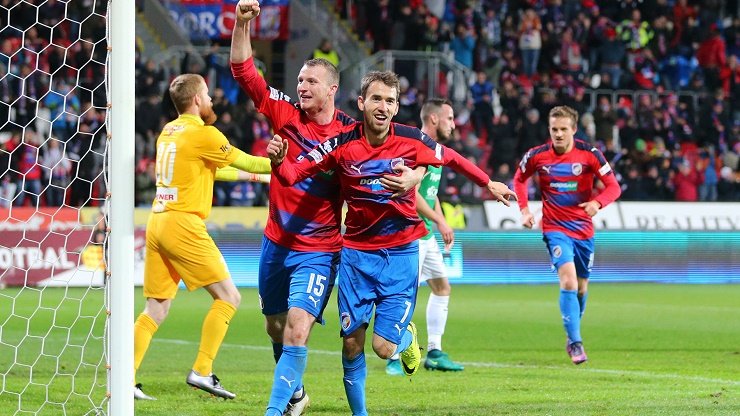 Viktoria admitted no complications and beat Jablonec 3:1
On Sunday 6th November the Doosan Arena welcomed league footbal again. Viktoria´s opponent were Jablonec, the team who stole all 3 points when they last visited Štruncovy sady.
Viktoria were dangerous mostly on the left side where Zeman was given too much space from the defenders. However, his passes did not find any teammates in an ideal situations to score. On 12 minutes Zeman headed after Kopic´s cross but the goalkeeper was ready and saved his attempt. One minute later Roman Hubník had an effort on goal but he only hit an upright. On 16 minutes the Doosan Arena saw the first goal of the match. Limberský beat his man and made Zeman free. He sent the ball to Tomáš Hořava who opened the score – 1:0! 7 minutes later Michael Krmenčík could increase the leading but he shot the ball above the crossbar. The game moved more in the midfield but Viktoria kept being more active. Jablonec focused more on the defence but Viktoria could deal with their effort, nevertheless, the score did not change until the end of the 1st half.
The 2nd half was opened by a great Viktoria´s chance when Hromada cooperated with Krmenčík. On 48 minutes the goalkeeper Hrubý performed an excellent save against Krmenčík. Soon after that Viktoria added the second goal but Krmenčík did not shot this time, he assisted to Hrošovský who finished the action – 2:0! On 57 minutes the home team had a free kick from the right side. After a confusing situation in front of the gate Lukáš Hejda shot a header in the gate – 3:0! On 66 minutes Martin Doležal received an ideal pass and Jablonec scored, too – 3:1. 3 minutes later Viktoria´s defenders had to risk and stop running Tecl. Both teams wanted to change the score but it remained and Viktoria could celebrate the victory and their league leading in the standings.
Fotogalerie
Related articles