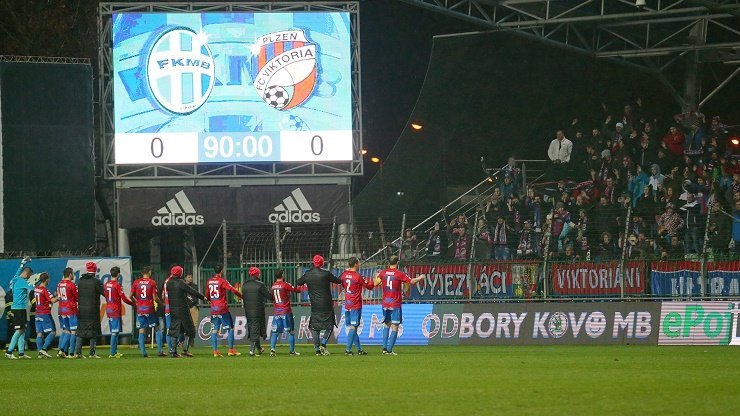 Viktoria tied in Mladá Boleslav 0:0
Viktoria Plzeň played the 14th round of the ePojisteni.cz League at the City Stadium in Mladá Boleslav. It was a match of the two currently best teams of the league. The coach Pivarník chose an expected starting line-up with Michael Krmenčík as a forward.
A raw national team member Krmenčík presented himself very actively from the very first minutes, however, both his actions were stopped by off-side. The first free kick of the match was executed by Martin Zeman who attempted to shot the defence from the left side on 11 minutes but the goalkeeper saved it. The following Krmenčík´s action on the right side lacked shooting accuracy. On 15 minutes Matúš Kozáčik finished Mareš´s dangerous shot. The following 20 minutes did not bring any promising goal chance on any side. The game moved rather in the midfield and all offensive activities failed in the final phase. Viktoria overplayed their opponent and were better at the ball. On 36 minutes the fans saw the biggest chance of the match. Hubník´s header was stopped by the home goalkeeper in front of the goal line. Another two Viktoria´s attempts were blocked by the defenders. Viktoria directed the rest of the half-time but the score before the break was 0:0.
The second half-time was opened by Mareš´s shot far above the crossbar. It prefigured Boleslav´s effort to change the score. Although the home team increased their pace towards Viktoria´s gate, the red-and-blue defence stayed perfect. On 59 minutes Michael Krmenčík had an effort on goal but the home defender Takács stopped him before the final phase. On 64 minutes Milan Petrřela came on the pitch to enlive the offensive of his team instead of Jan Kopic. On 78 minutes Martin Zeman was substituted by Jan Kovařík. With the end of the match approaching none of the teams could create any dangerous goal chances. Michal Ďuriš replaced Michael Krmenčík but neither him succeeded to change the score. Viktoria brought 1 point for a draw.
FK Mladá Boleslav - FC Viktoria Plzeň 0:0
Mladá Boleslav: Diviš - Jánoš, Da Silva, Takács, Fleišman - Kúdela, Malpon (78. Magera) - Klobása (69. Přikryl), Mareš, Fabián - Chramosta (84. Mebrahtu)
Plzeň: Kozáčik - Řezník, Hejda, Hubník, Matějů - Hromada, Hrošovský - Kopic (64. Petržela), Hořava, Zeman (78. Kovařík) - Krmenčík (86. Ďuriš)
YC: Klobása, Fleišman, Přikryl, Fabián - Řezník, Hubník Referees: Orel - Kotík, Hájek
Fotogalerie
Related articles