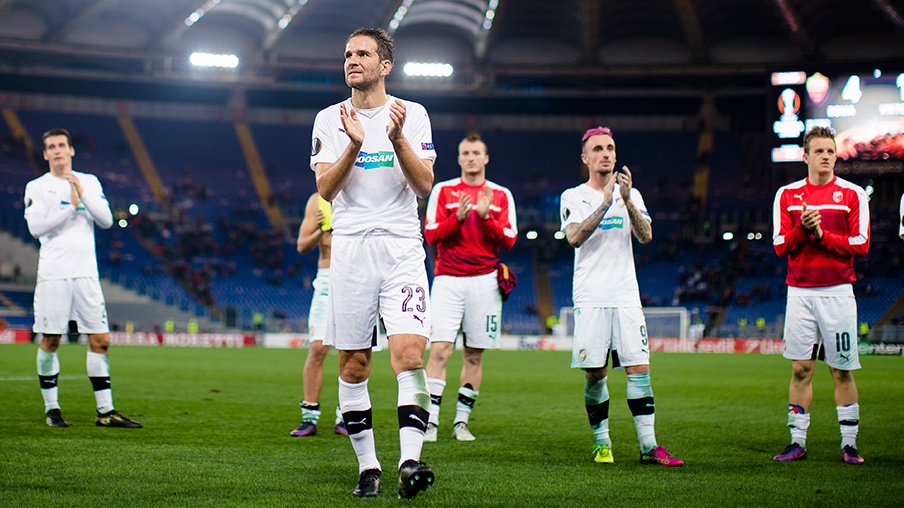 Our today´s opponent was very strong, Roman Pivarník says
Viktoria Plzeň finish their Europa League journey in the group stage. The coach Roman Pivarník failed at the stadium of AS Roma where Viktoria lost 4-1. He named the cause of the unsuccess.
"AS Roma is a team of high quality, which they confirmed in today´s match. We had to deal with the situation of defenders that we didn´t have nobody to replace them. We knew the opponent plays for long balls behind the defence so we adjusted our playing scheme to it. We had some good passages in the match, however, we made too many mistakes and again we offered them cheap chances. This a key problem of our team," the coach evaluates the match.
The biggest chance of the match was by Marek Bakoš who was face to face to the goalkeeper Alisson and rejected to equal the score by that. "Baky was in a 100% goal chance but he failed. It´s more bad that we conceded a goal immediately after that," Pivarník says. "I made the substitutions as a reaction to the game development of Austria Wien vs. Astra Giurgiu. I´d like to send some fresh midfielders on the pitch but because all of them had already been there, it wasn´t possible," Pivarník describes.
"I believe our edging out will not influence our team because we still have a team of high quality and today we were beaten by a top Italian team who are currently sittng 2nd in Serie A," Roman Pivarník closes.
Fotogalerie
Related articles