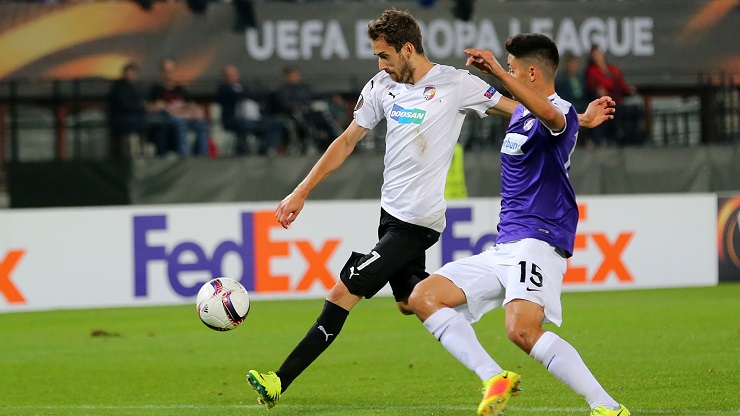 After a phenomenal turn Viktoria beat Austria Wien in 10 men on the pitch
In the final match of 2016 the Doosan Arena welcomed the home team Viktoria Plzeň and Austria Wien. The match was also the last one of the Europa League group stage. In case of victory Austria Wien could think of the spring part of the EL. The coach Roman Pivarník sent a very offensive starting line-up on the pitch.
On 3 minutes Jan Kopic appeared in the middle of the 18-yard box of Austria but he hit only the goalkeeper Hadžikić. 1 minute later Krmenčík headed the ball towards the gate but the goalkeeper caught his attempt after touching the crossbar. One of the key moments of the match happened on 19 minutes when Matúš Kozáčik combined with defenders and he kicked the forward Kayod who suddenly flew alone on the gate. Lukáš Hejda tried to save the situation, fouled on him and was shown a red card for that. Holzhauser scored the penalty kick and Viktoria were losing 0:1. After a phase of the game when Plzeň focused on the defence Michael Krmenčík shot on goal on 34 minutes but the goalkeeper saved it again. 4 minutes later Matúš Kozáčik had to try hard against Larsen´s attempt. A few moments later Rotpuller scored after a Conner and sent his team in a 2-goal leading. On 23 minutes the home team scored a goal after the Conner as well. Kovařík´s corner was prolonged to a back upright by Krmenčík where Tomáš Hořava placed it to an uncovered gate – 1:2. It was the half-time result.
In the 2nd half Viktoria confirmed that they do not want to give up. Zeman was very aktive on the right side ort he cooperation of Petržela and Kopic was also very productive. On 54 minutes Zeman crossed the ball to Tomáš Hořava who seemed surprised by it. 4 minutes later Viktoria made the first chase – Michael Krmenčík was replaced by Michal Ďuriš. On 66 minutes Ďuriš had an effort on goal when he waved the side of the Austrian net. 6 minutes later he was more accurate in shooting and scored. Viktoria equalized the score though in 10 man – 2:2. They were carving for more goals after that. On 83 minutes Jan Kopic was substituted by Marek Bakoš. He hust run on his position and the stadium burst out of joy. Martin Zeman passed the ball to the place where Michal Ďuriš was running and he scored again – 3:2 for Viktoria! On 90 minutes Tomáš Hořava was replaced by Tomáš Poznar. Viktoria could celebrate the victory after a breathtaking turn of the score from 0:2 to 3:2 and it all happened in 10 men on the pitch. Viktoria said goodbye to 2016 by a victory!
Fotogalerie
Related articles