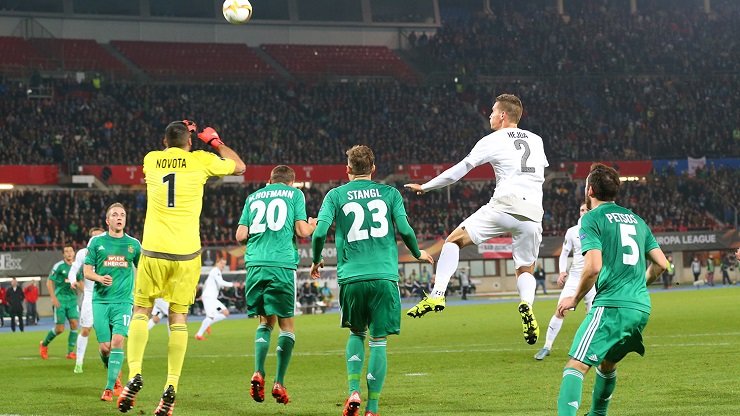 We hopefully pleased our fans, Hořava and Petržela agreed
FC Viktoria Plzeň performed an incredible turn in the last Europa League match of 2016. On 19 minutes Hejda was shown a red card and on 40 minutes Viktoria were losing 0:2. Nevertheless, they did not give up and finally they celebrated the victory 3:2.
"The match development was unbelievable and I´m so happy we finally won in the Europa League and our last hurray was a victory. It didn´t start well for us. The red card, penalty kick and then the second goal. However, we´ve already played in 10 before, we´ve already made it against Sparta and we succeeded today as well," the midfielder Tomáš Hořava says. "The fans were hopefully leaving the stadium satisfied. The match was great and we finished the year in the best way we could. We wanted to perform great game and our fans were the biggest motivation for us," Milan Petržela adds.
The match was equal because Plzeň stayed dangerous even in 10 men. "Our opponent were beatable, my goal kicked us forward and after a break we completed a perfect turn," the midfielder describes.
Milan Petržela appeared in the line-up as a defender because of injured backs. "I´m not used to play at this position but we conceded only 2 goals. It´s quite good result with regards to the fact there was only one real defender. We missed them but finally we made it," he adds.
Viktoria broke their 14-match streak of lost matches in the Europa League "It was very long and we finally won. We´re successful in the Czech league but not in Europe. We keep being disappointed because we could advance of the group. Today we proved that and we have to keep this performance in our minds," Tomáš Hořava says.
Fotogalerie
Related articles