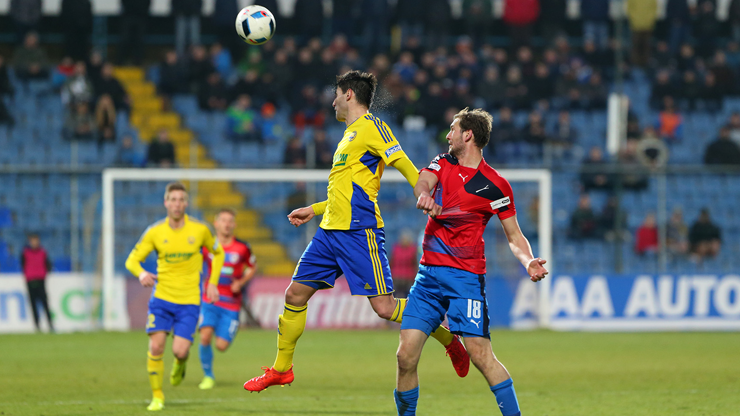 ​Viktoria gained 1 point after a goalless tie in Zlín
It was a thrilling match, both teams created promising goal chances. However, Viktoria and Zlín both took a goalless tie and gained 1 point each.
Both teams entered the match very actively and wanted to be offensive. On 9 minutes Zlín had a corner but Diego Živulič´s attempt was blocked by Viktoria´s defence. 10 minutes later the fans could see a chance on the other side of the pitch as well. Milan Petržela passed the ball to Lukáš Hejda who headed the ball above the gate only. The game was equal and very emotional, the home player Dame Diop made a foul on Roman Hubník and was shown a yellow card. On 30 minutes of the game the home team threatened again, nevertheless, the defensive directed by Matúš Kozáčik worked well and dealt with the dangerous situation. Then the stadium saw chances by Tomáš Poznar and Jakub Jugas, both failed. The first half-time ended goalless.
Zlín began the 2nd half by a great attempt when Vukadinovič centred the ball to Dame Diop who headed the ball only to Kozáčik crossbar. On 52 minutes the coach Pivarník substituted Ivanschitz for Jakub Hromada. 5 minutes later Michael Krmenčík replaced Poznar. Viktoria soon had an effort on goal but Roman Hubník had a hard position to score. On 67 minutes Viktoria made the last substitution and Petržela was replaced by Martin Zeman. Plzeň increased their offensive effort, however, the home team was dangerous after a break. On 87 minutes Kozáčik saved Lukáš Holík´s attempt. On the other side, Krmenčík was stopped by the goalkeeper Dostál, too. None of the teams scored a goal so they took 1 point each.
FC Fastav Zlín - FC Viktoria Plzeň 0:0
Zlín: Dostál – Pazdera, Gajič, Jugas (C), Matějov – Traoré – Štípek (77. Holík), Hnaníček (87. Janíček), Živulić, Vukadinovič – Diop (79. Beauguel).
Plzeň: Kozáčik – Řezník, Hejda, Hubník (C), Limberský – Hořava, Hrošovský – Petržela (67. Zeman), Ivanschitz (52. Hromada), Kovařík – Poznar (57. Krmenčík).
YC: 23. Diop, 69. Matějov, 83. Hnaníček, 90. Janíček – 75. Zeman, Referees: Proske – Blažej, Pospíšil – Berka.
Crowd: 5109.
Fotogalerie
Related articles