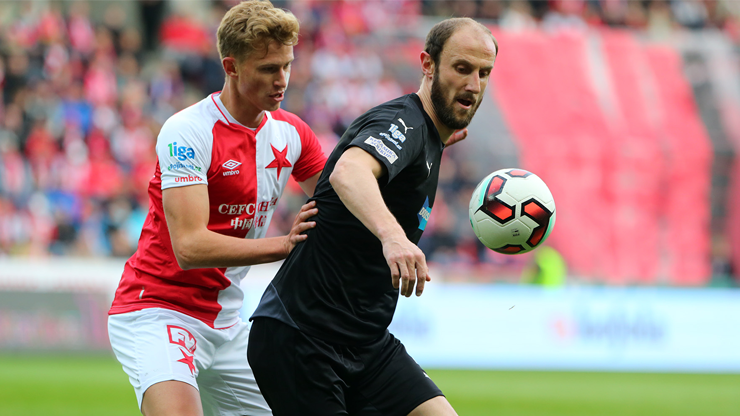 ​Viktoria finished the match against Slavia in ten and finally lost 0-1
Slavia Praha dealt better with the 19th-round hit of ePojisteni.cz League and beat Viktoria Plzeň1-0.
The match started by an intensive offensive on both sides, moreover, it was supported by great atmosphere created by the fans. Over one thousand fans came from Plzeň to watch and support their team. On 11 minutes Tomáš Hořava attempted to shot on goal after a corner but the ball went above the crossbar. Several minutes later Slavia had a free kick but the centre pass of Jan Sýkora flew right towards the goalkeeper Matúš Kozáčik. On 30 minutes Viktoria had to play without Roman Hubník for a while because of his bloody injury. He quickly recovered and came back on the pitch. No bigger chance happened in the 1st half-time and the score was goalless.
Soon after the 2nd half beginning Plzeň were frozen for a while when a striker Milan Škoda run alone towards the gate but his attempt was destroyed by Limberský. Slavia´s goalkeeper Pavlenka acted fair after that when he rebounded Petržela´s shot and then corrected the referees that it should be a corner against his team. On 69 minutes the coach Pivarník made the first substitution of the match when Marek Bakoš replaced Michael Krmenčík. Nevertheless, moments later Radim Řezník was shown the second yellow card and had to leave the pitch. Milan Petržela was substituted by Aleš Matějů.
On 88 minutes the fans could see the crucial moment of the match. After a corner to a back upright Michal Frydrych headed the ball behind the goalkeeper Kozáčik and Slavia beat Plzeň 1-0.
SK Slavia Praha - FC Viktoria Plzeň 1:0 (0:0)
SK Slavia Praha: Pavlenka – Frydrych, Lüftner, Deli, Flo – Ngadeu – Sýkora, Hušbauer (90+1. Ščuk), Barák (69. Mešanovič), Zmrhal (81. Tecl) – Škoda.
FC Viktoria Plzeň: Kozáčik – Řezník, Hejda, Hubník, Limberský – Hromada, Hrošovský – Petržela (74. Matějů), Hořava, Zeman (86. Kovařík) – Krmenčík (69. Bakoš).
Goals: 88. Frydrych, YC: 80. Hušbauer, 90+2. Sýkora – 44. Řezník, 55. Hořava, 60. Limberský, 76. Bakoš, 78. Zeman, 2nd YC: 71. Řezník, Referees: Příhoda – Nádvorník, Dobrovolný – Orel.
Crowd: 19084.
Fotogalerie
Related articles