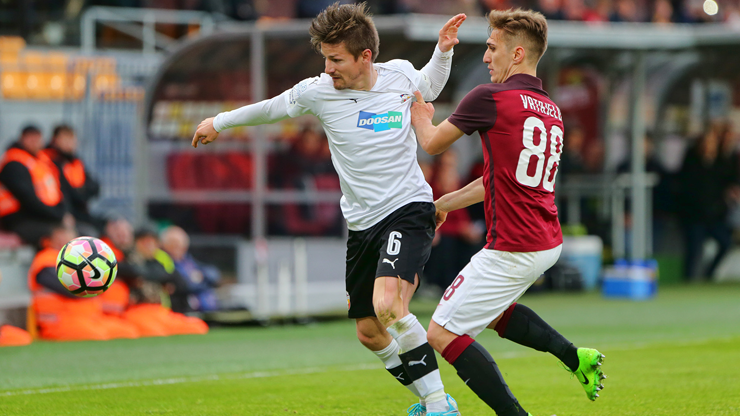 After a loss 2-0 Viktoria leave Sparta´s stadium without any point
​On Sunday 23rd April Viktoria Plzeň were fighting for another 3 points against Sparta Praha. Viktoria were sitting second in the standings before this 25th-round match when they were jumped over by Slavia playing on Friday. Although Plzeň could rely on their recent good performance, two goals in 5 minutes caused they left Letná stadium without points.
On 4 minutes Krmenčík rushed alone towards the goalkeeper Bičík but his attempt was not successful. Sparta responded soon by Šural but first he sent the ball to Kozáčik´s hands and then he shot the ball off the gate. On 14 minutes two Viktorians were shown a yellow card. The referee Zelinka did not undestand Hubník´s and Bakoš´s protests against his decision so he gave both of them yellow cards. On about 20 minutes Radim Řezník had an effort on goal but failed. On 23 minutes Sparta scored. Lafata passed the ball to Šural who headed it behind the goalkeeper. 15 minutes later Sparta were in two-goals leading. The ball went through Viktoria´s penalty area and Karavaev received it and scored. Kovařík could decrease the score but he hit only an upright after a free kick. The half-time result was 2-0.
Jan Kovařík did not participate in the 2nd half because he was substituted by Jan Kopic. Plzeň had an effort on goal when Hrošovský shot on goal but the home team were closer to scoring. On 52 minutes Lafata´s shot touched the crossbar above Matúš Kozáčik. On 57 minutes the coach Zdeněk Bečka made the second substitution when he replaced Michael Krmenčík for Tomáš Poznar. Viktorians tried to change the score but all their effort finished in front of the penalty area. On 69 minutes Václav Pilař came back on the pitch after an one-year pause. He substituted Milan Petržela. Plzeň had less and less time and althought newcoming Kopic and Petržela refreshed the game it was not still enough and Viktoria keep sitting 2nd in the total league standings.
Related articles