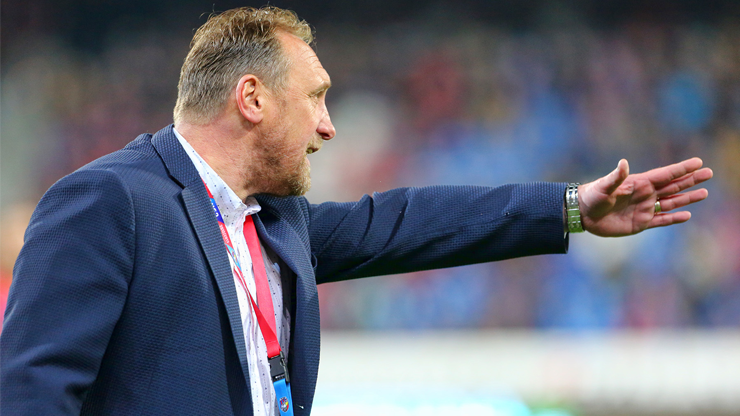 ​Hats off to boys, Zdeněk Bečka says
Viktoria managed the 26th round of ePojisteni.cz League when they kept their lead from the second half and beat Dukla Praha 2:0. The coach Zdeněk Bečka was satisfied with his team performance.
"I must pay a compliment to the boys after this difficult week. They worked like a dog in the match and we deserved to get three points, I think," he said after the final whistle.
The match was difficult especially from the point of its psychical side. "We worked on their motivation the whole week, because we were down at the beginning. The sad incident affected our training process. But boys responded with their activity," Bečka thought. "Everybody had to handle it on his own. You could see it on the players' faces during the week. After all, we decided to fight also for Franta today and in other matches of the League and tonight we are happy to win for Rajty too," the main coach of Viktoria revealed.
In the 2nd half, there was a chance for Dukla to reduce the lead of West Bohemians. "We must realize that every match has its stages. We lost much power in the first half-time. Dukla is a team with experience and a good condition. We are glad we did not get a goal. And about the fact, that the enemy created chances? Well, they would make them against anyone," the front man of the Pilsen player's bench judges.
Andras Ivanschitz, a midfield player, got back in the line-up. "He was working excellent at trainings all the month. He deserved a chance today and he gave a good impression on the pitch," Zdeněk Bečka praised his charge.
Fotogalerie
Related articles