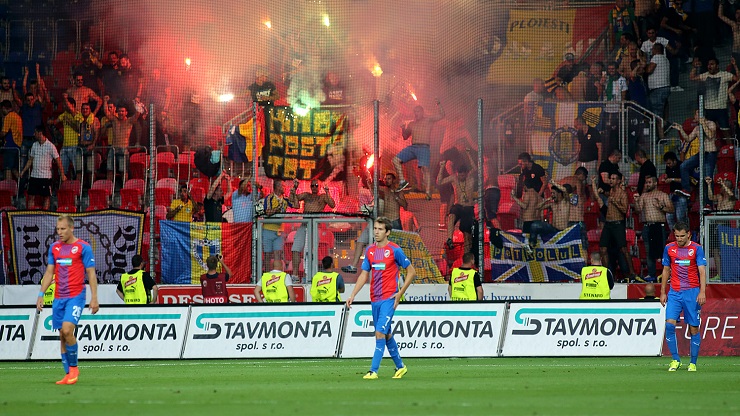 Plzeň end in Europe
​FC Viktoria Plzeň played the 3rd QR rematch of the Europa League against Petrolul Ploiești FC on 7th August at 20 p.m. Viktoria brought promising result 1:1 from the first match when Daniel Kolář scored a last minute goal on 90 minutes and responded to Adrian Mutu´s goal.
The match started under Plzeň´s fans support and the sound of fire crackers from the guests´ sector. Viktoria started in a very active way and worked on their superiority in the area. The guests´ goalkeeper had to make a save after Pavel Horváth´s corner on 6 minutes. On 16 minutes Horváth took another corner and attempted to threaten the goal directly but the goalkeeper was luckier. On 20 minutes Ploiești played a free kick and Viktoria´s defence was asleep when Filipe Teixeira placed the ball behind Kozáčik. Viktoria did not ease up after that and Petržela had an effort on goal but was finally stopped by the defence. On 31 minutes Pilař got an ideal ball in the penalty area but missed the chance to shoot. Plzeň were craving for goal and literally pinned their opponent to the penalty area. Unfortunately for them, they did not appear in the direct goal chances. On the contrary, on 38 minutes Adrian Mutu shot from 25 metres and scored – 0:2 for Ploiești. Viktoria responded immediately and Pilař sent a precise ball to the left upright – 1:2. This goal concert continued and on 43 minutes after a quick break De Lucas added the third Ploiești´s goal – 1:3. This was the half-time result.
None of the teams changed their lineups in the 2nd half. Viktoria needed three goals to be scored and none received to go on in Europe. Václav Pilař was implicated in the first threat for the guests on 48 minutes after a corner but the goalkeeper was ready. The game moved rather in the guests´ half of the pitch and Kolář was not far from scoring but his shot was rebounded by the goalkeeper Peçanha. Viktoria put pressure but it was Ploiești who added one more goal. On 68 minutes Tamuz after a break scored – 1:4. Viktoria tried hard to change their destiny but they ended either by their imprecise passes or by the Romanian defensive line. On 84 minutes Vaněk run in between the centre backs but his header found only the goalkeeper of Petrolul. The game did not have pace after that and Plzeň finished their European journey for this season.
Q3, Thu 7th Aug 2014, 20:00
Plzeň: Kozáčik – Řezník, Hubník, Procházka, Limberský – Horváth (C), Hořava (73. Vaněk) – Petržela (66. Tecl), Kolář, Pilař – Bakoš (53.Chramosta).
Ploiești: Peçanha – Alcénat, Geraldo Alves, Gerson, Fanchone – de Lucas, Hoban – Nepomuceno(64. Mustivar), Mutu (C)( 73.Albin), Filipe Teixeira (83. Marinescu) – Tamuz.
Goals: 40. Pilař - 20. Teixeira, 38. Mutu, 43. De Lucas, 68. Tamuz. YC: Řezník, Procházka, Horváth, Hubník - Tamuz. Referees: Millot - Luzi, Zakrani (all France)
Crowd: 10521.
Fotogalerie
Related articles