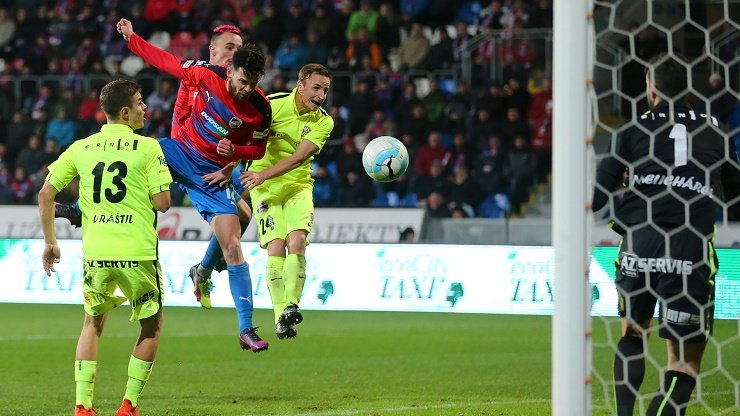 Viktoria beat Brno and will lead the league over winter
On Sunday 27th November Viktoria Plzeň played the last 2016 match against Zbrojovka Brno at the Doosan Arena. The pre-match programme involved a nice duty of the club when they awarded Milan Petržela and David Limberský for their 300 matches in the home highest league.
Viktoria Plzeň were more successful in the league standings as well as on the pitch today. On 3 minutes Krmenčík had an effort on goal, a few moments later Hrošovský attempted the same. The goalkeeper Melichárek was ready in both situations and rebounded the ball off the goal. The game calmed down in the middle of the 1st half, however, there still were some goal chances. On 21 minutes Tomáš Hořava shot on goal but Melichárek saved it. 1 minute later even Melichárek was too short for Zeman´s and Krmenčík´s action. Viktoria´s forward opened the score of the match – 1-0! After 30 minutes of the game Lukáš Hejda attempted to attack the goal but after his cooperation with Řezník he shot off the gate. On 35 minutes Krmenčík beat his defender but he hit only an upright. On 42 minutes Martin Zeman apeared in a very similar situation with the same effect. The half-time result was 1-0.
Viktoria made two line-up changes for the 2nd half. David Limberský was replaced by Jan Kovařík and Jakub Hromada was substituted by Michal Ďuriš. Viktoria Plzeň kept trying to combine precisely and they possessed the ball most of the time. Zbrojovka got from their half only through their long balls to Řezníček. None of them caused Viktoria any problems. On 64 minutes Kovařík crossed the ball to Ďuriš but the goalkeeper Melichárek stayed concentrated. 10 minutes later both players repeated the action but this time Ďuriš was more successful and scored – 2-0! Brno tried to change the score in the following minutes but their attempts failed.
The final result of the match was 2-0 and Viktoria gained all 3 points.
FC Viktoria Plzeň - FC Zbrojovka Brno 2:0 (1:0)
Plzeň: Kozáčik - Řezník, Hejda, Hubník, Limberský (46. Kovařík) - Hromada (46. Ďuriš), Hrošovský - Petržela (85. Bakoš), Hořava, Zeman - Krmenčík
Brno: Melichárek - Hyčka, Vraštil, Kijanskas, Lutonský - Polák (22. Buchta), Sedlák - Přichystal (73. Zavadil), Škoda, Štohanzl - Řezníček
Goals: 22. Krmenčík, 75. Ďuriš YC: Hromada, Petržela - Štohanzl Referees: Berka - Hrabovský, Arnošt
Fotogalerie
Related articles