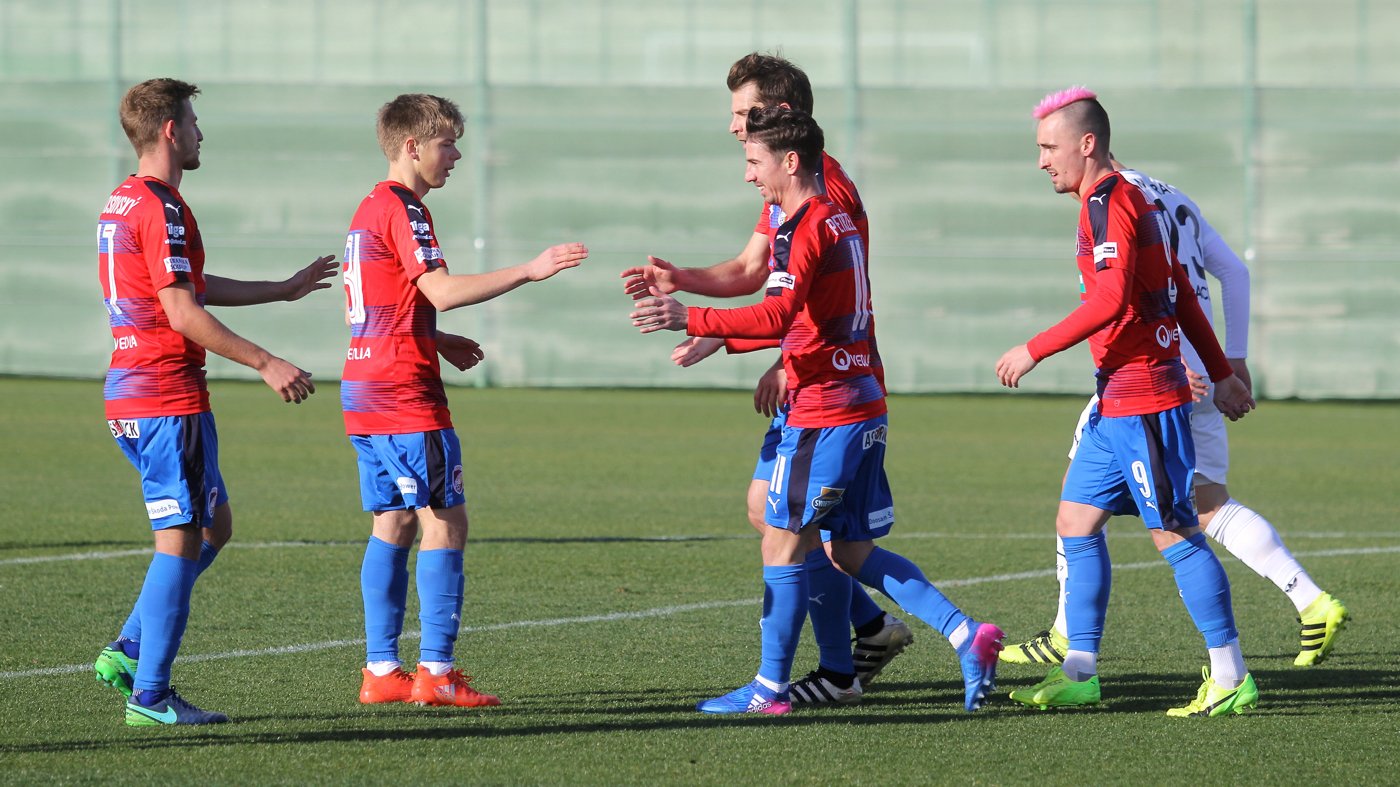 Plzeň won over Moldavian Dacia Chisinau 4:1
​Viktoria won the second friendly match in Benidorm! They played against the fourth team of the Moldavian League and beat them 4:1 after goals by Petržela, Hájek, Poznar and Hromada.
The kick-off had to be delayed for 40 minutes because of the referees´ coming late.
Viktoria quickly jumped into the match when on 6 minutes Milan Petržela scored by a short-distance attempt. The midfielder appeared at the next chance as well but his effort was stopped by the goalkeeper Dorian Railean. On 33 minutes Hubník tried to score after a corner but he hit only the goalkeeper.
The second half-time was very good for Viktorians. On 54 minutes after a corner Lukáš Hejda shot on goal and Tomáš Hájek scored – 2:0. On 60 minutes Railean saved Kopic´s attempt but he passed the ball to Tomáš Poznar who increased Viktoria´s leading to 3:0.
Soon after that Dacia reduced the score when Aleksandr Kablaš scored after a free kick. However, Viktoria replied by the best possible way and added the last goal of the match. Jakub Hromada scored to 4:1!
Dacia gave Viktoria several interesting chances. At first Jan Kovařík´s corner was rebounded by the goalkeeper and then Hejda shot off the gate, at the end Tomáš Hořava also had an effort on goal but the result remained.
Viktoria Plzeň beat Dacia Chisinau 4:1.
Mid-season trainings, Sun 5th Feb 2017, 16:10, Benidorm, Spain
Plzeň: Sváček – Matějů (64. Řezník), Hubník (46. Hejda), Hájek, Janža (59. Limberský) – Petržela (59. Kopic), Hlavatý (64. Hromada), Hrošovský (84. Pihrt), Zeman (59. Kovařík) – Ivanschitz (64. Hořava) – Bakoš (59. Poznar).
Chisinau: Railean – Posmac, Diego, Jalba, Kablaš, Sarmov, Pascenco, Cojocaru, Bejan, Vremea, Mudrac.
Goals: 6. Petržela, 54. Hájek, 63. Poznar, 68. Hromada – 65. Kablaš, YC: Zeman – Diego.
Fotogalerie
More articles from this category Aktuální zprávy