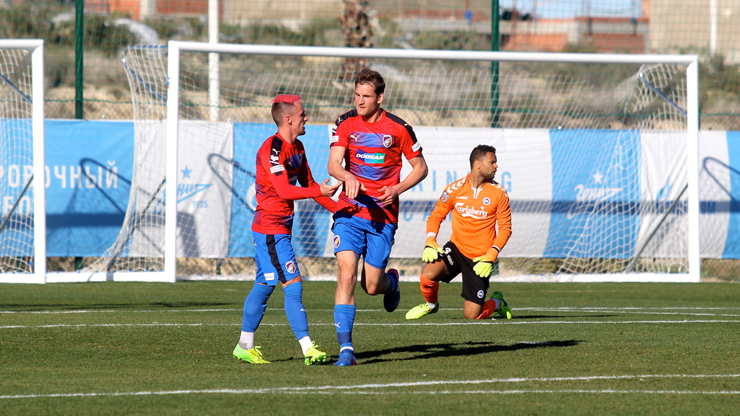 Viktoria remain unbeaten: they won over Odense
Viktoria Plzeň keep being successful in the winter trainings, they beat the Danish team Odense 2-0 in resort La Finca in Algorfa. Both goals were scored by Tomáš Poznar.
The beginning of the match was very busy for Petr Bolek but he was successful. On 7 minutes he stopped Edmundsson and soon after that he rebounded a shot of Casper Nielsen. On the other side, the first danger was seen on 11 minutes when Poznar headed the ball above the gate. Moments later Tomáš Poznar could celebrate the first goal of the match after his cooperation with Martin Zeman.
Another great save was performed by the goalkeeper Petr Bolek against Edmundsson and after that Jan Kopic shot off the goal. Odense could equalize the score before the end of the 1st half but Nielsen´s attempt was stopped by the crossbar.
Plzeň entered the 2nd half better when Kopic had an effort on goal, nevertheless, the goalkeeper Sten Michael Grytebust saved his shot. On 68 minutes Jakub Hromada passed the ball to Tomáš Poznar behind the defensive line and he immediately increased the score to 2-0.
Marek Bakoš could definitively decide the match but his attempt was caught by the Danish goalkeeper. Plzeň beat Odense 2-0 and they have stayed unbeaten during the winter trainings!
Viktoria Plzeň – Odense BK 2:0
Plzeň: Bolek – Matějů, Vacovský, Hájek, Janža – Kopic, Hlavatý, Hromada, Zeman – Bakoš (C) – Poznar.
Odense: Grytebust – Desler, K. Petersen (C) (67. Laursen), Tingager, Pereira (67. Jönsson) – Nielsen (46. Thrane), Thomasen (67. Jensen), Tverskov (46. Uzochukwu), Greve Petersen (81. Veber) – Edmundsson (67. Welbeck-Maseko), Jacobsen (81. Eskesen).
Goals: 18. Poznar, 68. Poznar, YC: 41. Vacovský, 57. Matějů – 45+1. K. Petersen.
Fotogalerie
More articles from this category Aktuální zprávy