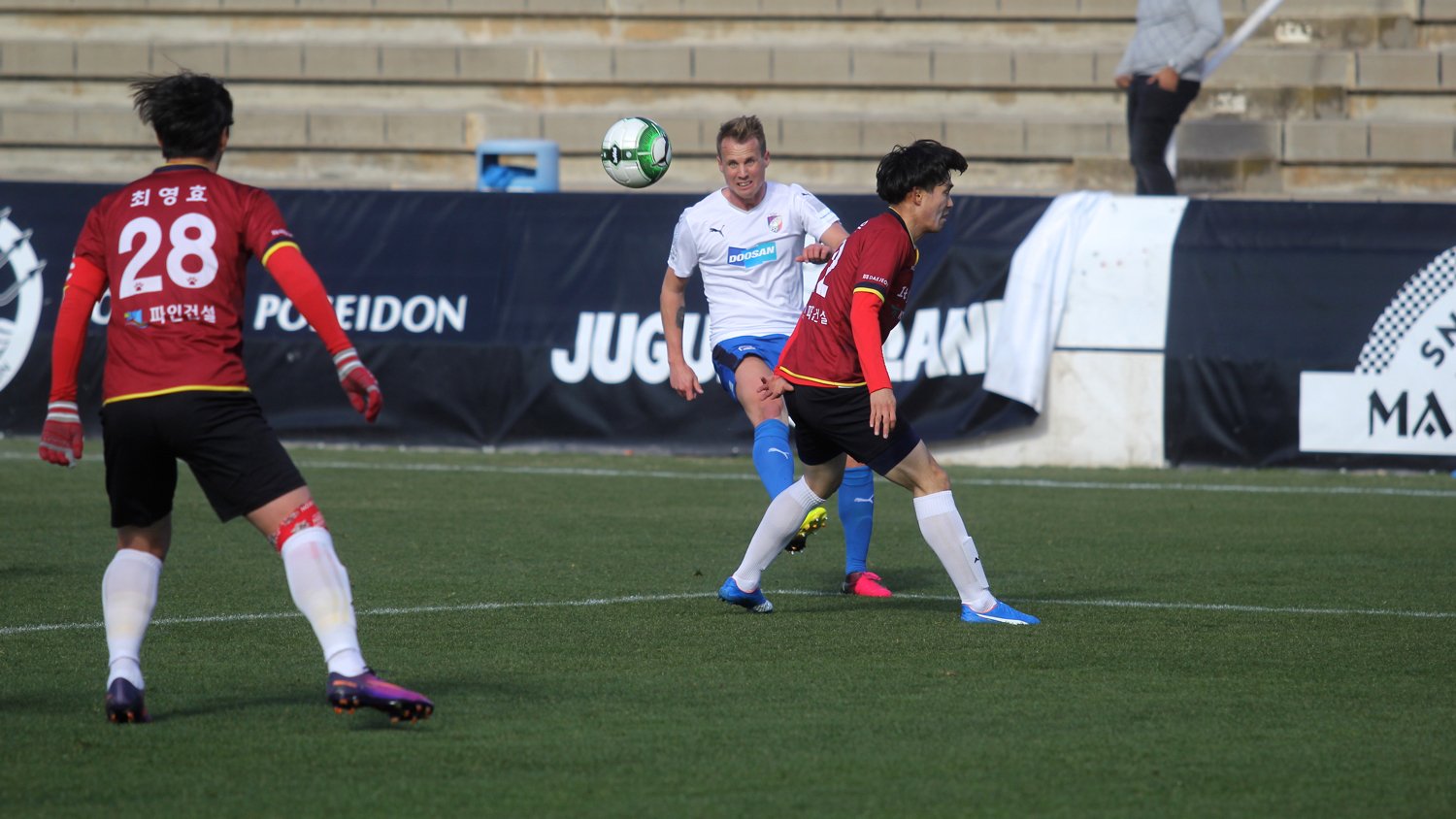 Viktoria´s first loss in winter trainings, they didn´t deal with Daejeon
Plzeň were beaten for the first time during their winter trainings, they did not make it against a tough Korean opponent Daejeon and lost 2-0. Both goals were scored in the 2nd half, the second one was added from a penalty kick.
Viktoria entered the match very actively. On 5 minutes after Ivanschitz´s cooperation with Petržela Tomáš Hořava shot from the 18-yard box, however, the goalkeeper Lee Young Chang rebounded the ball to a corner. Soon after that Limberský passed the ball to Krmenčík who headed the ball over the gate
Red-and-blue continued in their good combination, Daejeon presented themselves by a very active and strong game. On 21 minutes they had a first chance of the match when Lee Ho Seok sent a long-distance shot towards the goalkeeper Kozáčik who was ready.
After the beginning of the 2nd half Viktoria performed an excellent action but Michale Krmenčík hit only the goalkeeper Chang. Viktoria were better on the pitch, they combined well but they still missed a goal. Their opponent suddenly appeared in a goal chance and Christian headed the ball behind the goal line – 1-0.
Daejeon was playing an aggressive style of football. South-Korean side even received a red card, but Plzeň allowed them to remain with 11 players on the pitch.
Plzeň could equalize the score on 70 minutes, Ivanschitz´s great centre pass found his teammates on the 18-yard box but the ball finally flew over the gate. The second goal was scored from a penalty kick by Christian again.
The score remained until the end of the match in spite of the fact Viktoria tried hard to change it. On 87 minutes Hubník was very close to scoring but the final result of the match was 2-0 for Daejeon.
Viktoria Plzeň – Daejeon Citizen 0:2
Plzeň: Kozáčik – Řezník, Hubník (C), Hejda, Limberský – Petržela, Hrošovský, Hořava, Kovařík – Ivanschitz – Krmenčík.
Daejeon: Chang – Y. S. Young (70. Yeop), Bong (87. H. J. Jeong), Kyu, Woo – H. I. Beom, Yeol (87. Pedro), Seok, Levan (87. Joo II) – Joo (64. Eun), Christian.
Goals: 60. Christian, 81. Christian (pen.), YC: Ivanschitz – Y. S. Young, H. I. Beom, Woo.
Fotogalerie
More articles from this category Aktuální zprávy