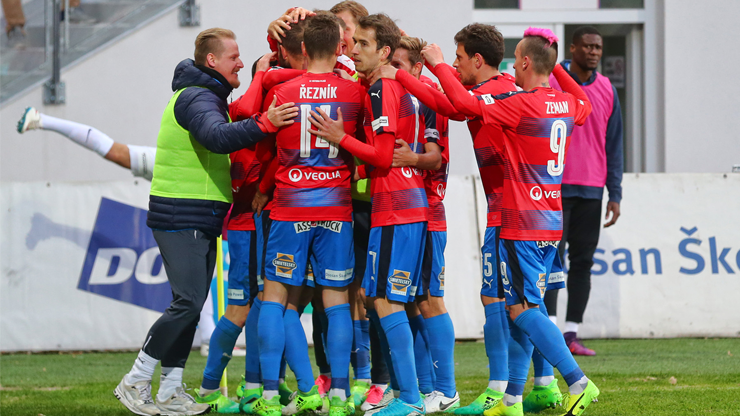 Viktoria beat Slovácko and gained important 3 points
​On Sunday the Doosan Arena welcomed Slovácko and Viktoria wanted to revenge an autumn loss to them. The match had a charity subtext because Viktoria and the brewery Gambrinus helped wheelchaired users by this game.
The opening chance of the match was shot by the away player Navrátil who rushed in the Viktoria´s penalty area, however, his shot was blocked by Lukáš Hejda. Both teams tried to present themselves by a dynamic and combination football. Roman Hubník also tasted Slovácko´s vigour when being forced to be substituted. After a fight with Navrátil on 14 minutes he had a backache and on 23 minutes he was replaced by Tomáš Hájek. Viktoria performed several interesting centre passes but none of them threatened the gate. On 35 minutes Petržela passed the ball to Michael Krmenčík who headed the ball behind the goalkeeper Michal Daněk, a former Viktoria´s player – 1:0 for Viktoria! It was a half-time result.
Zeman´s shot opened the 2nd half and it missed Daněk´s gate only for a few centimetres. On 62 minutes Petržela and Zeman performed an excellent cooperation. Petržela run with the ball for almost the whole pitch and then he served it to Zeman. He shot on goal but Daněk rebounded it out of the gate. On 66 minutes Martin Zeman run in the 6-yard box but the defence stopped him by a foul. Marek Bakoš executed a penalty kick and scored. It was his 50th goal for Viktoria and in total his 100th goal in his career. Viktoria were in lead 2-0! On 73 minutes the coach Bečka made the first substitution. Zeman was replaced by Kovařík. Soon after that Marek Bakoš left the pitch and Andreas Ivanschitz went in instead of him. The referee Orel finished the match and Viktoria gained 3 very important points when beating Slovácko 2-0.
FC Viktoria Plzeň - 1. FC Slovácko 2:0 (1:0)
Plzeň: Kozáčik – Řezník, Hejda, Hubník (23. Hájek), Janža – Hořava, Hrošovský – Petržela, Bakoš (85. Ivanschitz), Zeman (73. Kovařík) – Krmenčík.
Slovácko: Daněk – Reinberk, Hofmann, Břečka, Civič – Šumulikoski – Navrátil, Daníček, Machalík, Havlík (75. Rezek) – YC: Řezník – Daněk, Referees: Orel – Blažej, Vlček.
Fotogalerie
Related articles