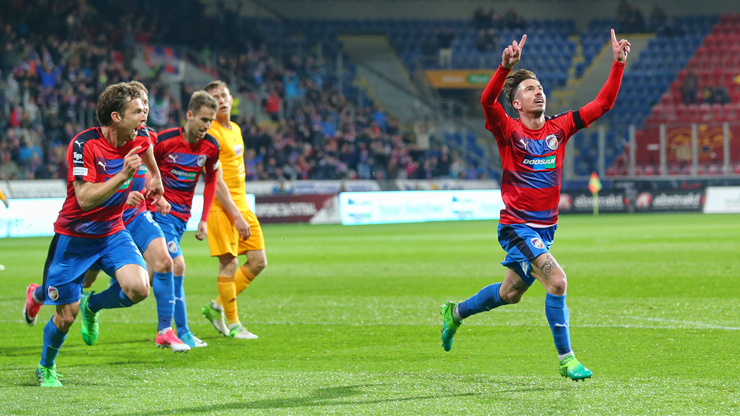 ​This is how Pilsen fights! Viktoria beat Dukla Praha 2:0
On Saturday, 29th April, the 26th round of ePojisteni.cz League was held at Pilsen Doosan Arena where home Viktoria faced the away team Dukla Praha. Before the match started, crowded stands of the stadium in Štruncovy sady paid tribute to the deceased František Rajtoral.
A shivering atmosphere filled the beginning of the match when the whole stadium chanted as one man a name of the Viktorian who wore a Pilsen jersey, with a half-year break, from summer 2009 till last autumn. In the first quarter of the match, they kept Dukla in their half, nevertheless, the goalkeeper Rada was not in direct danger. On top of that, Tomáš Hájek and Marek Bakoš had to keep in mind a yellow card. However, as soon as twenty minutes passed, Tomáš Hořava approached the ball and lining the penalty area he found Milan Petržela and it ended between the bars of Dukla – 1:0! Three minutes later, Viktoria showed a spick-and-span action on the left side of the pitch. Hrošovský together with Limberský passed a ball to running Petržela who was knocked down by Šimůnek. Marek Bakoš executed a penalty kick without hesitating and scored – 2:0 for Pilsen! Pilsen seemed to gather their strength and there was one dangerous cross by another in the penalty area of Dukla as the result of the perfect cooperation between Limberský and Petržela on the left side of the field. By right, Viktoria left for the half-time break with a two-goal lead.
Aleš Matějů, a line-up returnee, opened the 2nd half rushing into the penalty area of Dukla. The football representative under 21 failed the scoring chance. A few minutes later, active Petržela also missed the bars by a few centimetres. On the other side, Olayinka got a cross from Jan Holenda in front of the empty box but he lost the scoring opportunity. The Nigeria forward beyond any understanding shot over the Kozáčik's goal. Nevertheless, Pilsen players went on and Ivanschitz started a great activity with his heel-pass, Kopic took it forward and made it hard for Filip Rada in Dukla's goal. Václav Pilař got a chance to come back when he substituted Milan Petržela on 66 minutes. On 76 minutes Jan Kopic kicked another dangerous ball but touched the gate from outside only. Ivanschitz sent a similar missile two minutes later. A corner kick, which followed, offered the opportunity to increase the Pilsen lead but Hořava could not reach it. Matúš Kozáčik was also not bored in his place during the second half. He showed the best of himself during the extra time and stayed unbeaten. Viktoria beat Dukla Praha 2:0.
FC Viktoria Plzeň - FK Dukla Praha 2:0 (2:0)
Plzeň: Kozáčik – Matějů, Hejda, Hájek, Limberský – Hořava, Hrošovský – Petržela (66. Pilař), Ivanschitz (86. Poznar), Kopic – Bakoš (C) (76. Krmenčík).
Dukla Praha: Rada – Kušnír, Štetina, Šimůnek, Podaný – Hanousek (C), Tetour, Mustedanagič (76. Juroška) – Milošević (81. Bezpalec), Holenda, Olayinka.
Goals: 21. Petržela, 25. Bakoš (pen.), YC: Hájek, Bakoš – Olayinka, Kušnír, Referees: Franěk – Myška, Arnošt.
Crowd: 10329.
Fotogalerie
Related articles