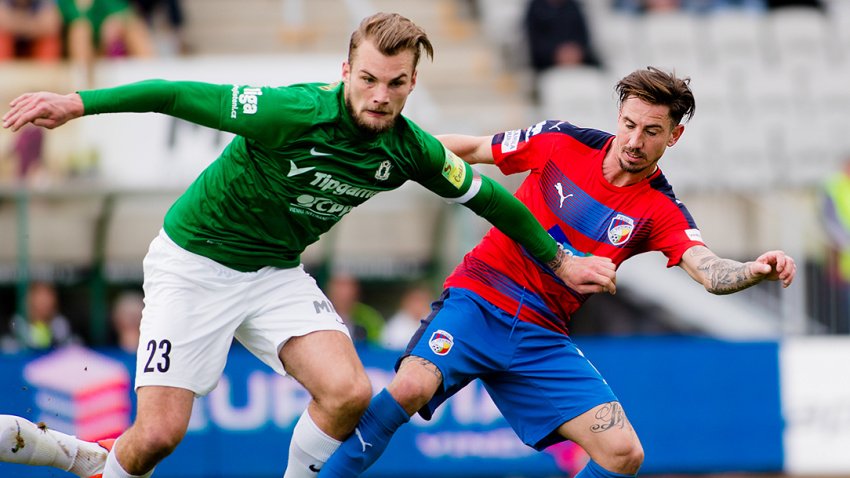 ​Viktoria were in lead but finally lost the match in Jablonec
The coach Zdeněk Bečka missed Bakoš and Hájek for the 27th-round match of the ePojisteni.cz League. Zeman was injured so he missed this match, too. On the contrary, Roman Hubník was recovered and Tomáš Poznar appeared in the starting line-up as a forward. Viktoria played a great 1st half-time, however, Jablonec entered the 2nd half better so the final result was a tie 2-2.
The home team appeared in the first dangerous chance of the match when Janković had an effort on goal near the penalty area but the ball flew off the goal. Moments later Mehanović had a promising chance, nevertheless, Matúš Kozáčik saved his attempt. On 11 minutes Viktoria got in lead. After a corner Andreas Ivanschitz kicked a rebounded ball and scored. Several minutes later Jan Kopic also appeared in a great goal chance but Hrubý stopped him. Hořava tried to score later but his attempt lacked a shooting accuracy. On 37 minutes Viktoria´s fans could burst out of joy again. Milan Petržela passed the ball to Andreas Ivanschitz who scored to 2-0. Plzeň were more satisfied after the 1st half.
The home team changed their starting line-up for the 2nd half when Pospíšil and Mehanović were replaced by Masopust and Doležal. On 53 minutes Diviš got in a shooting position but he missed the target. 5 minutes later the home team reduced the score to 1-2 when Martin Doležal placed the rebounded ball behind the goalkeeper Kozáčik. The home team were boosted and they even equalized the score soon after that. Martin Doležal scored again and this time it was an excellent performance by him. Viktoria quickly substituted Ivanschitz for Václav Pilař and later Petržela for Jan Kovařík. On 75 minutes they made the third substitution and Poznar was replaced by Michael Krmenčík. Viktoria tried hard to get all 3 points and became much more active, nevertheless, they only bumped to Jablonec´s well-organized defence. The final result of the match was 2-2.
FK Jablonec - FC Viktoria Plzeň 2:2 (0:2)
Jablonec: Hrubý – Janković, Pernica, Beneš (C), Zelený – Kubista – Diviš (84. Považanec), Pospíšil (46. Masopust), Trávník – Mehanović (46. Doležal), Mihálik.
Plzeň: Kozáčik – Matějů, Hejda, Hubník (C), Limberský – Hořava, Hrošovský – Petržela (70. Kovařík), Ivanschitz (64. Pilař), Kopic – Poznar (75. Krmenčík).
Goals: 58. Doležal, 63. Doležal – 11. Ivanschitz, 37. Ivanschitz, YC: Mihálik, Janković – Hubník, Referees: Jílek – Moláček, Pochylý.
Crowd: 3660.
Fotogalerie
Related articles