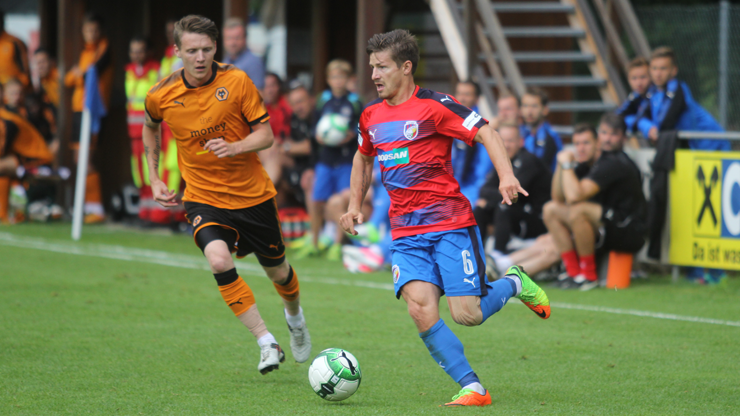 ​Viktoria lost to English team Wolverhampton
Viktoria Plzeň played their second friendly match in Westendorf and this time they faced the 2nd-league English team Woverhampton Wanderers. After a failure in the 1st half, which was won by the Wolves 2-0, Viktoria had an effort to equalize the score. They only succeeded in reducing it to 1-2.
Viktoria´s captain for this match was the new reinforcement Milan Havel. On 4 minutes Nouha Dicko checked Hruška´s attention but the goalkeeper was ready. The match was very equal on both sides, both teams tried to be very active, nevertheless, organized defences stopped all the attempts successfully. On 17 minutes Plzeň´s defence made a mistake and Nouha Dicko placed the ball behind the goal line. On 30 minutes Matt Doherty shot on gate and added the second goal of his team.
The coach Pavel Vrba made four changes for the 2nd half-time. Řezníček, Petržela, Hořava and Matějů went on the pitch and on 60 minutes also Bakoš, Zeman and Ivanschitz joined the team. Soon after that Ivanschitz crossed the ball to the 6-yard box where Bakoš hit it in the gate. The score was 1-2 and Wolverhampton won the friendly match.
FC Viktoria Plzeň - Wolverhampton Wanderers 1:2 (0:2)
Plzeň: Hruška – Řezník, Hejda (46. Matějů), Hájek, Havel (C) – Hrošovský (60. Ivanschitz), Živulič (60. Bakoš) – Kopic (46. Petržela), Kolář (46. Hořava), Pilař (60. Zeman) – Krmenčík (46. Řezníček).
Wolverhampton: Ruddy (46. Norris) – Doherty (46. Batth), Douglas (60. Deslandes), Edwards (C) (46. Neves), Bennett (60. Simpson), Miranda, Cavaleiro (60. Ronan), Price (46. Saiss), Dicko (46. Enobakhare), Mason (46. Zyro), Boly (60. Coady).
Goals: 64. Bakoš – 17. Dicko, 30. Doherty, YC: Simpson.
Crowd: 300.
Fotogalerie
Related articles