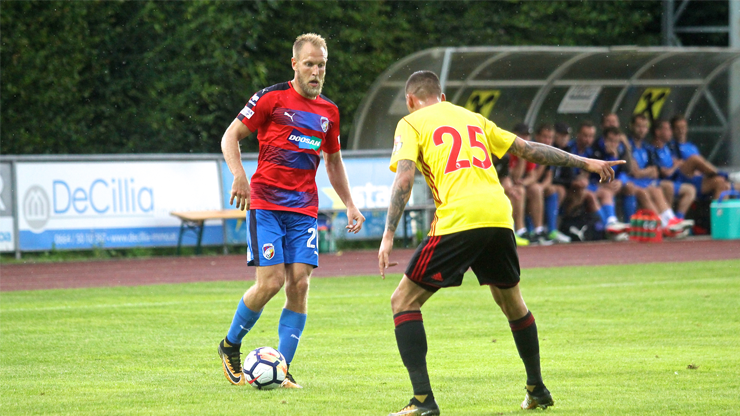 ​Viktoria finished their Austrian trainings and lost to Watford
Viktoria Plzeň played their last friendly match before the 2017/18 season and they faced 1st-league English Watford. Viktorians lost this match 0-1 and their match score from Austria are 3 losses.
On 5 minutes Petr Bolek´s attention was checked by Abdoulaye Doucouré but the goalkeeper was excellent in this situation. 10 minutes later Étienne Capoue was also stopped by Bolek. Viktoria were dangerous on 20 minutes but Daniel Kolář´s long-distance attempt flew off the goal. Soon after that Stefano Okaka had an effort on goal, too, however Watford had only a corner after that. They were not dangerous from this action but, on the contrary, Plzeň were close to scoring when Hájek´s header was caught by the goalkeeper Gomes. Krmenčík hit an upright before the half´s end but the score remained goalless.
Viktoria changed the goalkeepers and Bolek was substituted by Aleš Hruška, Jan Kopic replaced Milan Petržela as a right wing. On 65 minutes Lukáš Hejda, Tomáš Hořava and Jakub Řezníček substituted Řezník, Hrošovský and Krmenčík. The game was very equal and did not offer many chances. The coach made another 3 changes in the line-up on 75 minutes – Ivanschitz for Živulič, Zeman for Pilař and Bakoš for Kolář. Ivanschitz quickly prepared a chance for Tomáš Hájek who failed in the final phase.
On the other side, the score was opened after Will Hughes´s shot was rebounded to Stefan Okaka. Soon after that Jerome Sinclair had an effort on goal too, however, Hruška saved his attempt At the end of the match Jan Kopic appeared in a promising chance and Viktoria were given one last free kick after a head touch but failed in scoring.
Pre-season, Tue 18st Jul 2017, 17:00, Sportzentrum Wörgl
FC Viktoria Plzeň - Watford FC 0:1 (0:0)
Plzeň: Bolek (46. Hruška) – Matějů, Řezník (65. Hejda), Hájek, Havel – Hrošovský (C) (65. Hořava), Živulič (75. Ivanschitz) – Petržela (46. Kopic), Kolář (75. Bakoš), Pilař (75. Zeman) – Krmenčík (65. Řezníček).
Watford: Gomes (C) (60. Pantilimon) – Janmaat, Prödl, Kabasele, Holebas (46. Dja Djédjé) – Watson, Doucouré – Berghuis (46. Amrabat), Capoue (68. Hughes), Success (68. Sinclair) – Okaka.
Goal: 79. Okaka.
Crowd: 235.
Fotogalerie
More articles from this category Aktuální zprávy