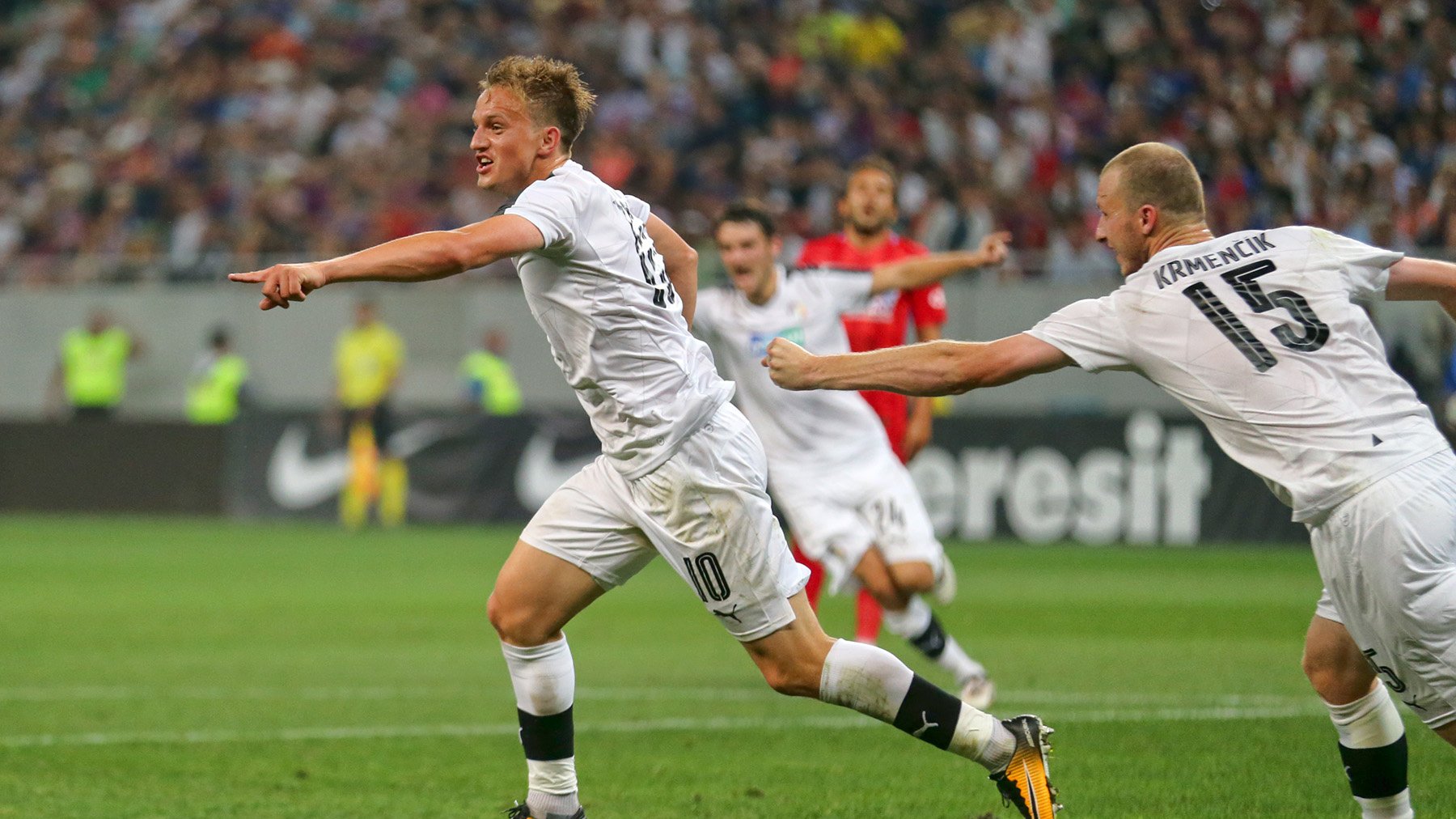 ​Viktoria were in lead twice but finally tied with Bucharest 2-2
The biggest Romanian stadium Arena Nationala and 30 thousand fans welcomed the 3rd qualifying round of the Champions League where FCSB faced Viktoria Plzeň.
On 6 minutes Michael Krmenčík appeared in the opening chance of the match when recieving a pass by Limberský. Nevertheless, the ball went off the goal. On 17 minutes another interesting ball flew in the penalty area but Kopic did not find Živulič´s head. Bucharest struggled with their combination and their actions often finished at Viktorians´ football shoes. On 23 minutes after a combination on their own half the ball was passed to Kopic and then Michael Krmenčík who scored the first goal of the match and Viktoria were in lead 0-1. On 29 minutes Bucharest attempted to response by Teixera but his shot was stopped by Řezník right on time. After that the goalkeeper Bolek took the ball to Alibec and kicked it out of the gate. Bucharest had more and more free kicks thanks to Viktoria´s faults and on 37 minutes they made the score equal when Budescu 1-1. Before the end of the 1st half Kopic crossed the ball to Petržela but he missed it and Bolek saved Sous´s shot and Alibec´s attempt went off the goal. Meanwhile Viktoria set the pace on the 1st half, the home team were more dominant in the 2nd one.
They entered the 2nd half as actively as they finished the 1st one, however, Plzeň appeared in the first chance. On 53 minutes Kolář had an effort on goal and Nita just rebounded it in front of himself, Jan Kopic took advantage of the situation and returned Plzeň in lead – 1-2! Nevretheless, Bucharest quickly found an answer on this, too. On 62 minutes Texiera changed the score to 2-2. On 67 minutes Viktoria made the first substitution, Krmenčík was replaced by Marek Bakoš, and 2 minutes later Petržela was substituted by Martin Zeman. On 85 minutes the coach Vrba substituted the last player Kolář for the striker Řezníček. The chances were seen on the other side but after 4 extra minutes the match was finished with the final result 2-2.
FCSB - FC Viktoria Plzeň 2:2 (1:1)
Goals: 37. Budescu, 61. Teixeira – 23. Krmenčík, 53. Kopic, YC: Pintilii, Alibec, Gnohéré – Havel, Hájek, Krmenčík, Petržela, Kopic, Referees: Aghajev – Zejnalov, Mammadov (all AZE).
FCSB: Niță – Enache, Larie, Balasa, Momčilović – Pintilii, Morais – Teixeira, Budescu (66. Achim), Tănase (46. Amorim) – Alibec (C) (57. Gnohéré).
FC Viktoria Plzeň: Bolek – Limberský, Řezník, Hájek, Havel – Živulič, Hrošovský – Petržela (69. Zeman), Kolář (C) (84. Řezníček), Kopic – Krmenčík (67. Bakoš)
Fotogalerie
Related articles