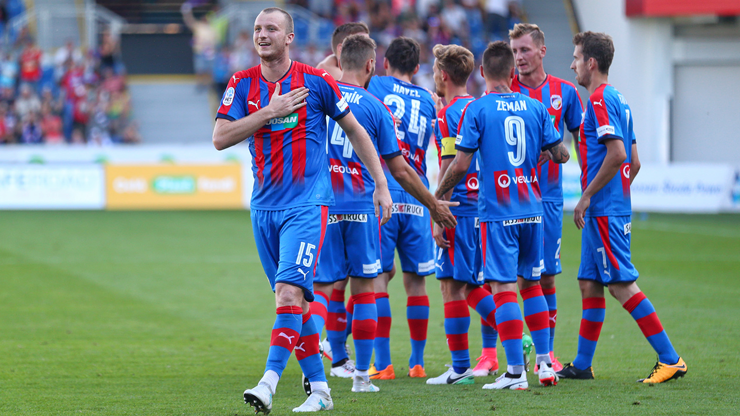 ​Viktoria commenced the league excellently – beat Dukla 4-0!
On Saturday afternoon Viktoria Plzeň played the 1st match of the HET League, they faced Dukla Praha and beat them 4-0. The Doosan Arena were impatiently looking out of Pavel Vrba´s comeback and the new reinforcements´ performance.
The expectations of Plzeň´s fans were liven up on 7 minutes when Hořava dangerously headed the ball on goal and 2 minutes later Hejda had an effort on goal, too. His attempt hit an upright and on 11 minutes the centre back hit the target and scored – 1-0! 5 minutes later the Doosan Arena burst out of joy again when Krmenčík beat his man and passed the ball to Hrošovský – 2-0! After this goal the game became more equal and Dukla also had a chance on goal but Holenda headed the ball off the gate. The third Viktoria´s was scored on 33 minutes when Živulič and Havel cooperated and crossed the ball to Krmenčík who scored - 3-0. Viktoria were unstoppable and Doosan Arena enjoyed the show. Kopic run along the right side-line and passed the ball to Tomáš Hořava who placed the ball behind Rada for the fourth time – 4-0!
Dukla started to be more offensive on the 2nd half, too. However, Holenda and Mustedanagić failed in scoring. On 59 minutes the coach Pavel Vrba substituted Michael Krmenčík for Jakub Řezníček. On 67 minutes Podaný´s attempt closely missed the gate. 2 minutes later Holenda headed the ball to an upright and crowned Viktoria´s passage of the game, in which Dukla set the pace. Later Milan Petržela replaced Martin Zeman and on 76 minutes he immediately participated in the game when passing the ball to Řezníček but their action was stopped for being off-side. 5 minutes later Daniel Kolář appeared on the pitch instead of Patrik Hrošovský. Dukla tried hard to change the score at the end of the match, however, Viktoria secured the score and won 4-0.
FC Viktoria Plzeň - FK Dukla Praha 4:0 (4:0)
Plzeň: Hruška – Řezník, Hejda, Hájek, Havel – Hrošovský (C) (81. Kolář), Živulič – Kopic, Hořava, Zeman (70. Petržela) – Krmenčík (59. Řezníček).
Dukla Praha: Rada – Kušnír, Bezpalec (46. Ostojić), Jiránek, Podaný – Hanousek (C), Bílovský (77. Koreš), Tetour – Brandner (46. Mustedanagić), Holenda, Schranz.
Goals: 11. Hejda, 16. Hrošovský, 33. Krmenčík, 42. Hořava, YC: Krmenčík – Hanousek, Kušnír, Referees: Příhoda – Blažej, Kříž.
Crowd: 9624.
Fotogalerie
Related articles