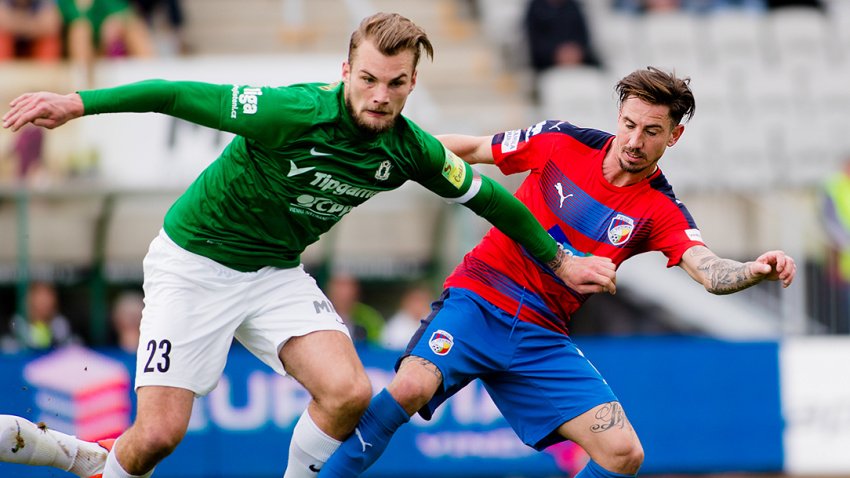 Viktoria beat Jablonec 1-0
Ideal football weather that is rare in the north of the Czech Republic welcomed Viktoria Plzeň in Jablonec. Viktoria´s line-up remained almost unchanged in comparison with the match against Bucharest. The only change was at the goalkeeper´s position where Hruška replaced Bolek.
While the initial minutes of the match were directed by Plzeň, the opening chance of the match was created by Jablonec. However, Pernica failed against Viktoria´s defensive line. So the guests quickly appeared in a chance. After a foul on Martin Zeman Jan Kopic executed a free kick and passed the ball to Tomáš Hájek scored his the first goal for Plzeň – 1-0! Viktoria kept their high-quality combination and were more successful than Jablonec. The home team relied more on a ready defensive and quick breaks. On 36 minutes Daniel Kolář shot on goal from a long distance but he hit only an upright. Krmenčík had an effort on goal until the end but he missed the target and on the other side Mihálik sent the ball to Hruška´s arms.
Right on 2 minutes of the 2nd half Martin Zeman and Michael Krmenčík cooperated. Zeman crossed the ball to the 6-yard box and Krmenčík kicked it to running-out Hrubý.On 52 minutes Masopust had a promising chance but his attempt flew above the gate. On 60 minutes Viktoria lost their defender when Tomáš Hájek was injured. Milan Petržela replaced him. Radim Řezník moved to a centre back position. While in the 1st half Viktoria were more active, in the 2nd half the home team livened up and they were craving for goals – Mihálik shot off the goal and Doležal was twice stopped by Hruška. On 76 minutes Daniel Kolář left the pitch and was substituted by Tomáš Hořava. Jablonec kept being very offensive and crossed many dangerous balls to the 18-yard box. On 86 minutes the coach Vrba aimed to boost the game of his team by the third substitution and Krmenčík went out, Bakoš in. At the end of the match Viktoria had a big chance but failed in scoring. Viktoria won in Jablonec 1-0.
2nd round, Sun 6th Aug 2017, 16:00, Střelnice
FK Jablonec - FC Viktoria Plzeň 0:1 (0:1)
Jablonec: Hrubý – Masopust, Pernica, Hübschman (C), Hanousek – Diviš (82. Mehanovič), Trávník, Mihálik, Kubista, Zelený – Doležal.
Plzeň: Hruška – Řezník, Hejda, Hájek (60. Petržela), Havel – Hrošovský, Živulič – Kopic, Kolář (C) (76. Hořava), Zeman – Krmenčík (87. Bakoš).
Goal: 12. Hájek, YC: Kubista, Mihálik, Trávník – Živulič, Zeman, Hruška, Referees: Královec – Paták, Hájek.
Crowd: 3870.
Fotogalerie
Related articles