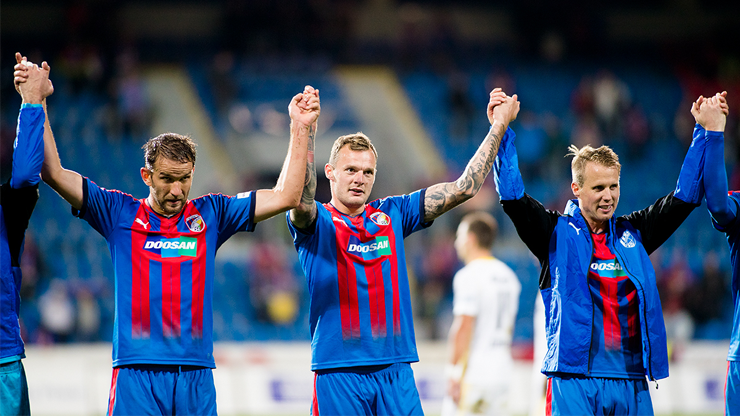 ​Plzeň resisted and won over Zlín 2-1
The match between two Europa League participants was played at the Doosan Arena within the 7th round of the HET League. The home team faced Zlín, the team with one of the worse league statistics at away stadiums. The coach Pavel Vrba returned Matúš Kozáčik to the starting line-up as well as Michael Krmenčík.
On 9 minutes Lukáš Hejda received a pass from Kopic and tried to open the score. His attempt was rebounded off the gate by the goalkeeper Dostál. Plzeň kept putting their opponent under pressure. On 12 minutes Petržela headed the ball to Kolář who opened the score of the match – 1-0! 3 minutes later the Doosan Arena celebrated again when Krmenčík jumped up the Kopic´s corner and headed the ball behind Dostál – 2-0! Zlín appeared in a promising chance on about 30 minutes but Kozáčik checked this attempt calmly. Moments later Bača was more dangerous, however, the goalkeeper was more successful and the score remained. Fastav were not able to make any continuous pressure and on 43 minutes they surprised by Ekpai´s goal. The half-time result was 2-1 for Viktoria.
The 2nd half was started by Řezník´s inaccurate shot. Viktoria´s game was not so offensive after the break. The coach Pavel Vrba aimed to liven it up by a substitution on 62 minutes. Milan Petržela was replaced by Martin Zeman. Zlín made two big goal chances – first Kozáčik saved Toaré´s attempt and later Vukadinovič missed the target. On 71 minutes Dostál was threatened by Daniel Kolář, however, he kicked the ball above the crossbar. Soon after that Viktoria´s midfielder was substituted by the forward Marek Bakoš. Zlín tried hard to turn the score on their side, nevertheless, they could not get close to scoring. On 89 minutes Michael Krmenčík was replaced by Jakub Řezníček. The final score of the match was 2-1, Viktoria beat Zlín.
FC Viktoria Plzeň - FC Fastav Zlín 2:1 (2:1)
Goals: 12. Kolář, 15. Krmenčík – 43. Hájek (vl.), YC: Bakoš – Bačo, Matějov, Džafič, Referees: Nenadál – Kotík, Kříž.
Crowd: 9128.
Plzeň: Kozáčik – Řezník, Hejda, Hájek, Limberský – Živulič, Hrošovský – Petržela (62. Zeman), Kolář (C) (72. Bakoš), Kopic – Krmenčík (88. Řezníček).
Zlín: Dostál – Matějov, Bačo, Gajič, Holzer – Ekpai (86. Beauguel), Traoré (83. Železník), Jiráček (C), Bartošák (81. Džafič) – Vukadinovič, Diop.
Related articles