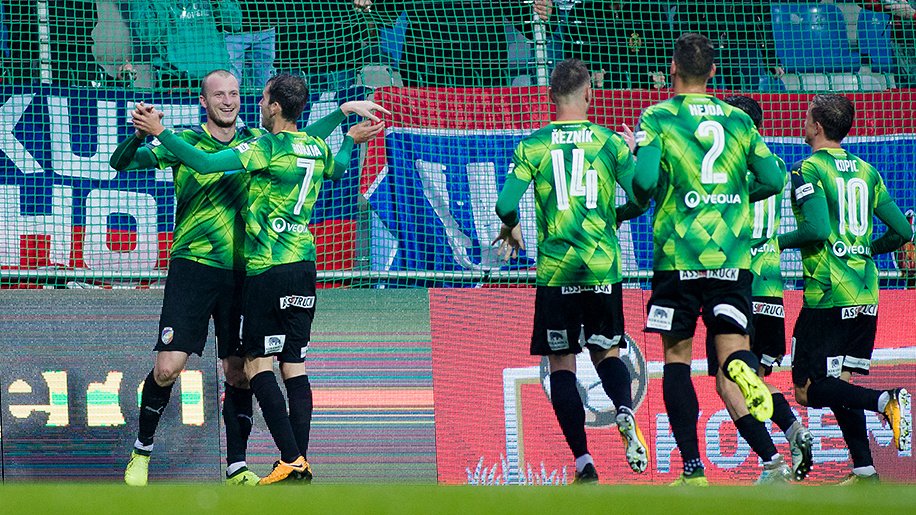 ​Viktoria won the match against Mladá Boleslav 2-0, both goals were scored during 15 minutes
On Saturday 23rd September Viktoria Plzeň travelled to Mladá Boleslav to play the 8th round of the HET League. The unbeaten leader of the league wanted to succeed today as well, in spite of the fact their opponent won their last two matches, too.
The home team started very actively but Matějovský and Chramosta missed the target. Plzeň responded by the best possible way – they opened the score of the match. Petržela and Limberský cooperated and then passed the ball to Michael Krmenčík who scored – 1-0 for Plzeň! Several minutes later Hrošovský crossed the ball to Kopic who added the second goal. However, the referee stopped their joy because he blew his whistle for being off-side. On 14 minutes Plzeň Limberský passed the ball to Krmenčík – 2-0! On 25 minutes Kozáčik saved Mareš´s attempt. Viktorians were successful at combination and offensive phase. First, Řezník had an effort on goal and then Petržela as well. None of them scored. The 1st half result was 2-0 for Plzeň.
At the beginning of the 2nd half the weather became rainy and Viktoria continued in a combination game. Boleslav did not want to accept this result and tried hard to change it. On 67 minutes Milan Petržela left the pitch and was replaced by Martin Zeman. The 2nd half lacked some real goal chances but Kopic and Krmenčík amused fans by their nice action. On 79 minutes David Limberský had a fight with the home player Magera. He had to leave the pitch on a stetcher and was substituted by Milan Havel. At the end of the match Marek Bakoš substituted the striker Michael Krmenčík. The match finished soon after that and Viktoria beat Mladá Boleslav 2-0.
FK Mladá Boleslav - FC Viktoria Plzeň 0:2 (0:2)
FK Mladá Boleslav: Vejmola – Pauschek, Chaluš, Stronati, Fleišman – Hubínek, Matějovský (C) – Přikryl (83. Vukadinovič), Chramosta (61. Komličenko), Mareš – Magera (71. Mebrahtu).
FC Viktoria Plzeň: Kozáčik – Řezník, Hejda, Hájek, Limberský (80. Havel) – Hořava, Hrošovský – Petržela (67. Zeman), Kolář (C), Kopic – Krmenčík (88. Bakoš).
Goals: 3. Krmenčík, 14. Krmenčík, YC: Mareš, Magera, Fleišman – Limberský, Hrošovský, Petržela, Referees: Franěk – Antoníček, Caletka.
Fotogalerie
Related articles