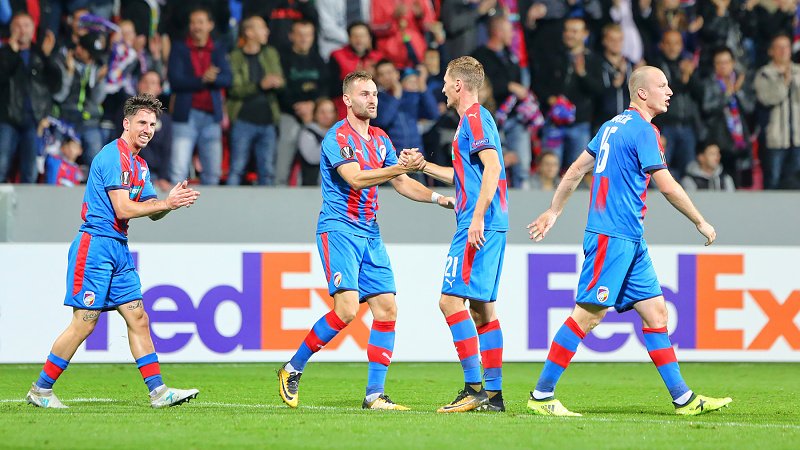 ​Viktoria gained 3 points against Hapoel Beer-Sheva and beat them 3-1
The first home match within the Europa League was played on Thursday 28th September at the Štruncovy sady stadium. Viktoria welcomed Hapoel Beer-Sheva from Israel. Both teams had different enter to the group stage. Meanwhile Plzeň lost in Bucharest, Hapoel won over Lugano.
On 4 minutes Petržela cooperated with Řezník who appeared in the penalty area. His sharp shot touched only an upright. On the other side Tomáš Pekhart rushed alone towards the goalkeeper Hruška. 7 minutes later Řezník crossed the ball to Krmenčík who missed the target. Plzeň were very active but Krmenčík´s, Kopic´s or Kolář´s attempts failed. On 29 minutes Kopic passed the ball to running Petržela who scored – 1-0! On 37 minutes Sahara had an effort on goal but Aleš Hruška saved his attempt. The 1st half score was 1-0 for Viktoria.
The 2nd half started as the 1st one finished. The visiting midfielder Ogu received the ball but his shot was rebounded by Hruška. Hořava also joined this offensive effort on the other side of the pitch but it was stopped by Goresh. Hrošovský also tried to change the score. On 62 minutes Milan Petržela was subsituted by Martin Zeman. On 70 minutes Elo passed the ball to Anthony Nwakaeme and scored – 1-1. The coach Vrba made the second substitution and on 73 minutes Daniel Kolář was replaced by Andreas Ivanschitz. He immediately participated in the game and crossed the ball to Jan Kopic who returned leading to Viktoria – 2-1! 9 minutes before the end of the match Kopic had an effort on goal again but did not succeed. The goalkeeper Goresh stayed careful. On 84 minutes Pavel Vrba substituted the last player, Krmenčík was replaced by Marek Bakoš who soon passed to Řezník but the goalkeeper was more successful. On 89 minutes Bakoš scored when receiving a pass from Zeman. His header changed the score to 3-1.
Viktoria won this important match 3-1 and have 3 points in the EL group stage.
FC Viktoria Plzeň - Hapoel Beer-Sheva 3:1 (1:0)
FC Viktoria Plzeň: Hruška – Řezník, Hejda, Hájek, Havel – Hořava, Hrošovský – Petržela (62. Zeman), Kolář (C) (73. Ivanschitz), Kopic – Krmenčík (85. Bakoš).
Hapoel Beer-Sheva: Goresh – Broun (80. Ohana), Taha, Elhamed – Elo, Radi, Ogu, Melikson (C) (80. Cuenca), Korhut – Sahar (62. Nwakaeme), Pekhart.
Crowd: 29. Petržela, 75. Kopic, 89. Bakoš – 69. Nwakaeme, YC: Havel – Sahar, Taha, Referees: Vad – Albert, Berettyán (all Hungary).
Crowd: 10314.
Fotogalerie
Related articles