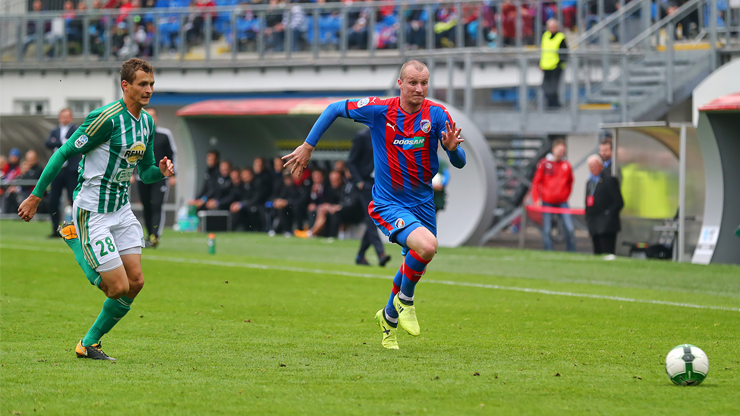 ​9th league victory in a row, Viktoria beat Bohemians
On Sunday at 3 p.m. Viktoria Plzeň played the match against Bohemians Praha 1905. The team that tied 1-1 in Plzeň last season. Pavel Vrba´s team was almost the same as against Hapoel Beer-Sheva. The only change happened at the goalkeeper´s position whete Matúš Kozáčik played from the first minute.
Bohemians entered the match very well and they made the first very dangerous chance by their quick game. Martin Hašek checked Kozáčik by a long shot. On the other side Řezník and Hašek could open the score by their attempts on 6 minutes were stopped by the defence. Viktoria took the initiative and settled on their opponent´s half of the pitch for a long time, however, defending Bohemians did not let them to any chance. It changed on 29 minutes when Michael Krmenčík had an effort on goal but the ball flew above the crossbar. Then they had several dangerous centre passes and corners but Bohemians´ gate was not in danger. On the contrary, they had the only chance and immediately scored. Vaníček crossed the ball to Dominik Mašek. His poor header was accurate and was placed behind Kozáčik. The half-time result was 0-1 for Bohemians.
In the 2nd half Pavel Vrba made some changes in the line-up – Daniel Kolář and Milan Petržela were substituted by Martin Zeman and Marek Bakoš. The Slovakian forward appeared soon in a great chance but the goalkeeper Fryšták performed an excellent save. On 52 minutes Martin Zeman shot a long-distance attempt as against Hapoel and Michael Krmenčík headed his shot in the gate – 1-1! Viktoria put their opponent under pressure, on 56 minutes Kopic crossed the ball in the penalty area and Bakoš lacked only centimetres to score. On 58 minutes Viktorians were close to scoring again but they could not make it. 9 minutes later Hrošovský sent his long-distance shot towards the goalkeeper. Matúš Kozáčik was busy as well moments later when alone Kabajev run against him. However, he was ready and perfectly stopped Kabajev´s effort. On 81 minutes Pavel Vrba made the last substitution. Tomáš Hořava was replaced by Andreas Ivanschitz. Viktoria´s pressure caused their second goal of the match on 83 minutes when Milan Havel scored – 2-1 for Viktoria! It was the final result of the match and Viktoria beat Bohemians.
FC Viktoria Plzeň - Bohemians Praha 1905 2:1 (0:1)
9th round, Sun 1st Oct 2017, 15:00, Doosan Arena
Plzeň: Kozáčik – Řezník, Hejda, Hájek, Havel – Hořava (81. Ivanschitz), Hrošovský – Petržela (46. Zeman), Kolář (C) (46. Bakoš), Kopic – Krmenčík.
Bohemians 1905: Fryšták – Dostál, Hůlka, Šmíd, Kocič – Vaníček, Jindřišek (C), Hašek, Luts (81. Reiter) – Mašek (53. Nečas) – Tetteh (63. Kabajev).
Goals: 53. Krmenčík, 83. Havel – 42. Mašek, YC: Havel, Kopic – Nečas, Luts, Kabajev, Dostál, Referees: Berka – Pospíšil, Flimmel.
Fotogalerie
Related articles