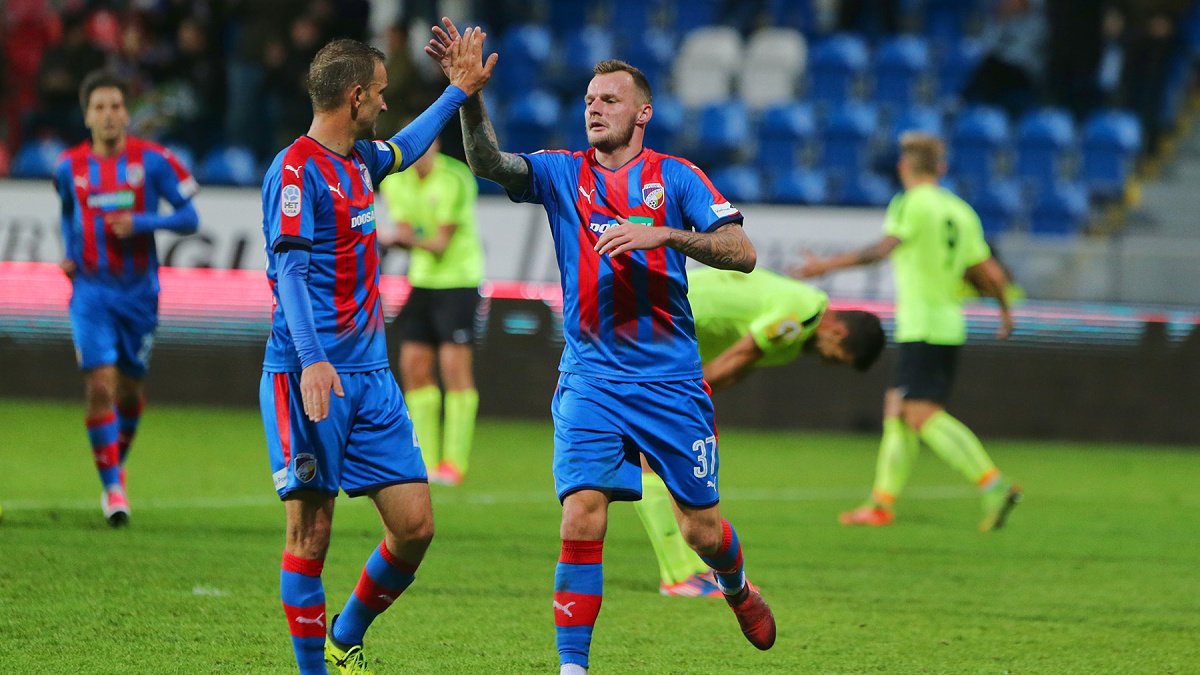 Two goals in every half-time meant Viktoria´s victory in the MOL Cup
​Viktoria played the 3rd round of the MOL Cup against SFC Opava. The coach gave an opportunity to play to the players of a broader team and recovered players. Jan Kovařík played a left defender, Václav Pilař was the midfielder and Bakoš and Řezníček played as forwards.
Quite a large group of SFC fans travelled to Plzeň but on 3 minutes Jakub Řezníček cooled them down when opening the score of the match after a corner – 1-0 for Viktoria! On 12 minutes Opava appeared in their first chance when Puškáč attempted to lob the ball over Hruška but he missed the target. On the other side Viktoria were more successful in the offensive phase. On 16 minutes the goalkeeper Šrom rebounded Zeman´s attempt only to Pilař who placed it behind him – 2-0 for Plzeň! After the goal Viktorians were craving for attacking more but the score did not change until the half´s end. Viktoria were a better team and deserved to win the 1st half 2-0.
Opava entered the 2nd half more actively than the home team and moreover they placed the ball behind the goal line, however, it could not be counted because of being off-side. On 58 minutes the coach Pavel Vrba substituted Čermák for Zeman. Immediately after the substitution the score changed. Viktoria made a mistake in the defence and Tomáš Smola scored – 2-1. Viktoria made the next substitution and Diego Živulič was replaced by Tomáš Hořava. The last change in Pavel Vrba´s line-up happened on 73 minutes and Milan Petržela substituted Václav Pilař. On 80 minutes Aleš Hruška saved the attempt of strong Puškáč. One minute later Jakub Řezníček had an effort on goal and passed the ball to Marek Bakoš. He knew very well what to do and scored – 3-1! On 83 minutes the Doosan Arena celebrated again when Čermák crossed the ball to Řezníkče who beat his man and scored – 4-1!
This was the final result of the match and Viktoria see Opava off.
FC Viktoria Plzeň - SFC Opava 4:1 (2:0)
3rd round, Thu 5th Oct 2017, 17:00, Doosan Arena
Plzeň: Hruška – Havel, Hájek, Hejda, Kovařík – Zeman (58. Čermák), Živulič (63. Hořava), Ivanschitz, Pilař (73. Petržela) – Bakoš (C), Řezníček.
Opava: Šrom – Hrabina, Simerský, Radič, Stříž – Schaffartzik – Kayamba (88. Čelůstka), Jursa, Kuzmanovič (46. Zapalač) – Jurečka (46. Smola), Puškáč.
Goals: 3. Řezníček, 16. Pilař, 81. Bakoš, 83. Řezníček – 59. Smola, Referees: Dubravský – Wilczek, Myška.
Crowd: 3883.
Fotogalerie
Related articles