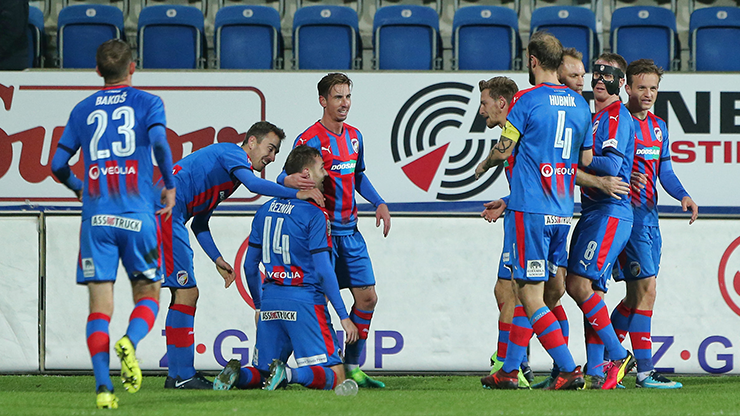 14th match, 14th victory in a row! Viktoria beat Slovácko 4-1
​Viktoria Plzeň played the 14th round of the HET League in Slovácko, the opponent which beat them last week in the MOL Cup. Viktoria revenged on Slovácko and beat them 4-1 this time.
Visitors performed the first chance of the match. Milan Petržela passed the ball to Daniel Kolář who missed the target. Soon after that Slovácko had an effort on goal when Navrátil shot on goal and Kozáčik had to catch his attempt. On 16 minutes Jan Kopic run with ball in the midfield and shot against Heča who rebounded it off on the corner. 1 minute later Viktorians celebrated their first goal. Milan Petržela crossed the ball to Lukaš Hejda who prolonged it to Kopic. He did not fail this time and scored! The fans could be even happier when David Limberský passed the ball to Marek Bakoš who appeared alone in front of the home goalkeeper. However, he missed the target. Nevertheless, Plzeň scored a goal moments later. Daníček made a foul on Kolář and Viktoria played a penalty kick. Daniel Kolář´s attempt was rebounded by the goalkeeper Heča as well as Patrik Hrošovský´s shot. But the ball flew to Radim Řezník who finally scored a goal. The half-time result was 2-0 for Viktoria.
Plzeň rushed in the 2nd half with a quick goal. Kopic´s centre pass was received by Lukáš Hejda who scored the third goal of the match – 3-0. Plzeň´s leading could be higher but Petržela´s and Bakoš´s centres were stopped by Heča. On 69 minutes the coach Pavel Vrba substituted Marek Bakoš for Jakub Řezníček. 1 minute later Viktoria burst out of joy when they succeeded in scoring for the 4th time. Radim Řezník passed the ball from the right side to Jan Kopic who scored his second goal in this match. The match had to be interrupted for about 10 minutes because of the power failure. The referee added 11 extra minutes and the home team had an effort on goal but Matúš Kozáčik performed a great save. Finally he did not finished the match with a zero because Petr Reinberk scored a goal and the final result was 4-1. Viktoria prolonged their winning streak to 14 matches.
1. FC Slovácko - FC Viktoria Plzeň 1:4 (0:2)
14th round, Sat 18th Nov 2017, 20:00, City football stadium of Miroslav Valenta
Goals: 90+10. Reinberk – 18. Kopic, 36. Řezník, 58. Hejda, 71. Kopic, YC: Kubala, Navrátil – Kopic, Limberský, Referees: Franěk – Arnošt, Myška.
Crowd: 4302.
Slovácko: Heča – Juroška, Daníček, Šimko, Reinberk – Šumulikoski (C) – Navrátil, Petr, Sadílek (59. Hellebrand), Havlík (46. Machalík) – Zajíc (89. Kubala).
Plzeň: Kozáčik – Řezník, Hejda, Hubník (C), Limberský – Hořava, Hrošovský – Petržela (90+10. Čermák), Kolář, Kopic (90+4. Pilař) – Bakoš (69. Řezníček).
Fotogalerie
Related articles