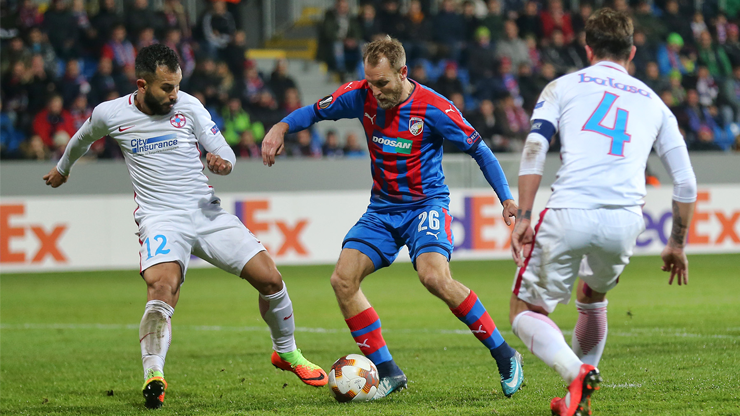 Viktoria beat FCSB and confirmed their advancing to the Europa League spring phase!
​On Thursday 23rd November Viktoria Plzeň played a very expected Europa League match against FCSB at the Doosan Arena. The home team wanted to give them the last defeats back. Pavel Vrba´s team were not able to beat the Romanian team in the last three matches.
The home team proved from the first minutes that they´ve planned to rush on their opponent. On 10 minutes Petržela performed an excellent action and shot on goal but he missed the target. 1 minute later the goalkeeper Vlad saved Kolář´s attempt. 10 minutes later Alibec suddenly run towards Hruška but the goalkeeper destroyed both his attempts. Soon after that Jakub Řezníček presented himself by two promising chances, Kolář had a safe bet on 23 minutes but he failed in the final phase. Until the end of the half Limberský and Řezníček had an effort on goal but they did not change the goalless score. Viktoria could be satisfied with the 1st half-time because they made more chances, however, the score was goalless.
Viktoria opened the beginning of the 2nd half excellently. Milan Petržela perfectly timed his running behind the defensive line and Patrik Hrošovský passed a perfect ball to him. The midfielder shot on goal and Viktoria were in lead 1-0! On 53 minutes Jan Kopic appeared alone in front of the opponent´s gate. After a fast break he shot close to an upright. Aleš Hruška shone in the gate when he rebounded Balas´s attempt and later Tanase´s low shot. On 66 minutes Jakub Řezníček left the pitch and Marek Bakoš played on his position. On 76 minutes Plzeň combined well and Kopic moved in front of the gate, nevertheless, his shot was stopped by Vlad. Hořava´s shot was deflected by Jan Kopic who finally scored a goal – 2-0! On 83 minutes Vrba substituted Kolář for Čermák. On 88 minutes Plzeň substituted Petržela for Živulič. Viktoria beat FCSB 2-0 and secured the Europa League spring. Lugano helped them by beating Hapoel Beer-Sheva so the Israeli team cannot think of the EL spring at all.
FC Viktoria Plzeň - FCSB 2:0 (0:0)
5th round, Thu 23rd November 2017, 19:00, Doosan Arena
Plzeň: Hruška – Řezník, Hejda, Hubník (C), Limberský – Hořava, Hrošovský – Petržela (88. Živulič), Kolář (83. Čermák), Kopic – Řezníček (66. Bakoš).
FCSB: Vlad – Enache, Planić, Bălașa (C), Júnior Morais – Popescu, Filip (46. Tanase) – Golofca (46. Nedelcu), Man, Coman (64. Budescu) – Alibec.
Goals: 49. Petržela, 76. Kopic, YC: Man, Enache, Budescu, Referees: Bebek – Pataki, Grgič (all CRO).
Fotogalerie
Related articles