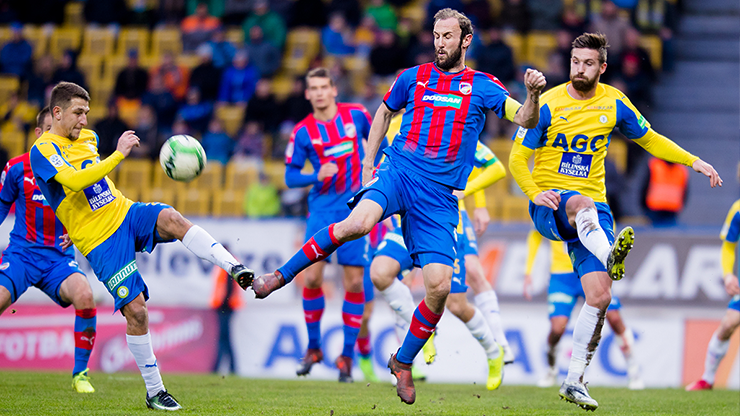 ​Viktoria Plzeň bring 1 point for a goalless tie from Teplice
Viktoria Plzeň played the last but one autumn round of the HET League in Teplice. Viktoria have not been very successful against this team lately, the last victory was preceded by 5 matches, in which Viktoria did not win.
Marek Bakoš played as a forward in this match and Matúš Kozáčik returned in the gate. From the first minutes both teams proved that the game would not be soft. Šušnjar and Limberský were shown yellow cards for their fouls and Roman Hubník had two sharp fights. On 18 minutes the fans saw the first chances on goal. Kopic took a free kick that jumped through the 18-yard box to Hubník and Petržela who passed the ball to running Bakoš, however, he was stopped by the defence. 4 minutes later Radim Řezník underwent a rough fight and he was not able to continue playing so his position was taken by Milan Havel. On 30 minutes Milan Petržela had an effort on goal but his shot aimed off the target. Bakoš was in a more promising position later but he hit only the goalkeeper Diviš. In the extra time Milan Havel rushed in the 18-yard box to hit Kopic crossed ball but the score remained goalless in the half-time break.
The 2nd half was opened by an inaccurate shot of former Viktoria´s player Fillo. But on the other side the goalkeeper was busier because Kopic and Havel combined near the gate. Havel´s shot in an half-empty gate was stopped by the home defence. On 65 minutes Pavel Vrba made the second substitution in order to finish a part of the match when Viktoria did not threaten the goal. Marek Bakoš was replaced by Jakub Řezníček. The substitution did not have the effect that Vrba might have expected, only Kolář got close to scoring, however, the goalkeeper was ready again. So Vrba made the last substitution and on 85 minutes Aleš Čermák went to play instead of Kolář. Nevertheless, Viktoria did not succeed in scoring in the whole match so both teams took a draw 0-0.
FK Teplice - FC Viktoria Plzeň 0:0
15th round, Sun 26th Nov 2017, 15:00, AGC Arena Na Stínadlech stadium
Teplice: Diviš – Krob, Šušnjar, Král, Vondrášek – Kučera, Ljevakovič (C) – Rezek, Fillo, Hyčka (88. Vošahlík) – Vaněček.
Plzeň: Kozáčik – Limberský, Hubník (C), Hejda, Řezník (26. Havel) – Hrošovský, Hořava – Kopic, Kolář (84. Čermák), Petržela – Bakoš (65. Řezníček).
YC: Šušnjar, Král – Limberský, Petržela, Hořava, Referees: Hrubeš – Pochylý, Flimmel.
Crowd: 6183.
Fotogalerie
Related articles