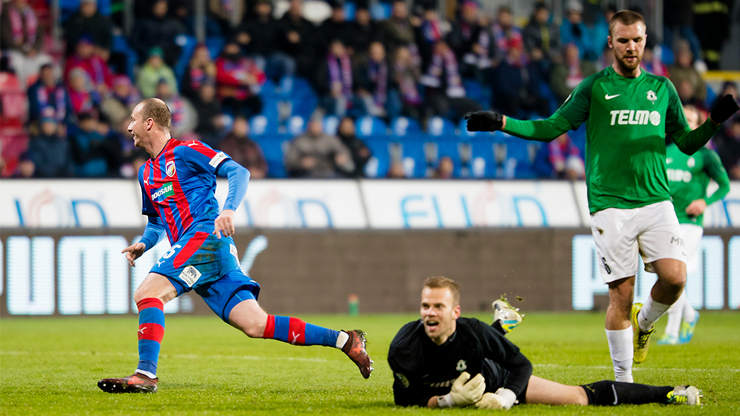 ​Viktoria finished the autumn part by a victory over Jablonec 2-0
On 2nd December Viktoria Plzeň played the last home match of 2017. They played the 16th round of the HET League against Jablonec. The fans could enjoy a festive moment devoted to Daniel Kolář who entered the club of legends with 300 matches.
Michael Krmenčík returned back in the starting line-up after a forward but it was another striker, a former Viktoria player, who had an effort on goal. On 8 minutes Tecl run across half of the pitch and even being hunted by Hrošovský he made it to shot. Fortunately, he waved only a side net of the gate. 4 minutes later Kopic passed the ball to Kolář who sent a low shot on the ground. The ball missed the target. On 15 minutes of the game Michael Krmenčík starred in the 18-yard box but Kolář´s attempt was rebounded off the goal by the goalkeeper. Immediately after that Krmenčík showed his power. On 18 minutes he received a pass from Daniel Kolář and then scored – 1-0! On 26 minutes Kopic had another chance but he only hit the goalkeeper Valeš. On 29 minutes Krmenčík and Hořava cooperated and the latter hit a crossbar. Viktoria dominated and did not let Jablonec to many chances except several fast breaks.
The start of the 2nd half seemed tighter than the 1st one. On 52 minutes Petržela got in a chance but the goalkeeper stopped him. On 69 minutes Kopic played a free kick and closely missed the target. 4 minutes later the coach Vrba decided to substitute Milan Petržela by Aleš Čermák. On 79 minutes Hořava had an effort on goal but the goalkeeper was ready again. 1 minute later Kolář hit an upright and Michael Krmenčík was at the right place. He finished the ball to the gate and increased the score to 2-0! On 85 minutes Daniel Kolář left the pitch and was replaced by Andreas Ivanschitz. Several moments later Krmenčík was substituted by Marek Bakoš. The final score of the match was 2-0 for Viktoria who increased their league score to 46 points!
FC Viktoria Plzeň - FK Jablonec 2:0 (1:0)
16th round, Sat 2nd Dec 2017, 19:00, Doosan Arena
Plzeň: Kozáčik – Řezník, Hejda, Hubník (C), Havel – Hořava, Hrošovský – Petržela (73. Čermák), Kolář (85. Ivanschitz), Kopic – Krmenčík (89. Bakoš).
Jablonec: Valeš – Holeš, Pernica (C), Kysela, Hanousek – Masopust (69. Jovovič), Kubista (44. Považanec), Trávník (79. Doležal), Zelený – Mihálik, Tecl.
Goals: 18. Krmenčík, 81. Krmenčík, YC: Hubník – Holeš, Zelený, Jovovič, Referees: Berka – Nádvorník, Hájek.
Related articles