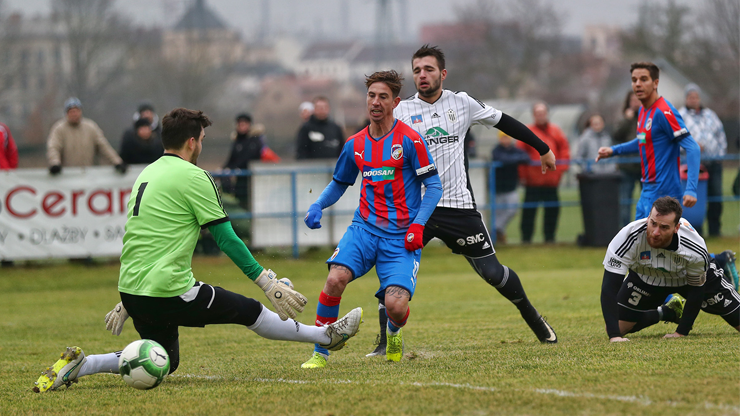 ​1st midseason friendly match: Viktoria beat Ústí nad Orlicí 3-0
Viktoria Plzeň played the 1st friendly match of 2018 within the winter midseason trainings and they made it. At the training stadium in Luční street they beat Ústí nad Orlicí 3-0 thanks to goals of Milan Petržela, Daniel Kolář and Michael Krmenčík.
Viktoria Plzeň got in leading against the 3rd-league team very fast. On 3 minutes Milan Petržela scored a quick goal. The home team dominated during the whole match and the visiting goalkeeper Jakub Krátký had to be careful especially against free kicks of Andreas Ivanschitz and Aleš Čermák. Plzeň were leading 1-0 after the 1st half and the coach Pavel Vrba sent a completely different line-up on the pitch. Only the goalkeeper Dominik Sváček stayed there after stopping several Smejkal´s chances.
On 62 minutes Viktoria added the second goal after Michael Krmenčík´s and Daniel Kolář´s cooperation. Kolář calmly scored and increase the score to 2-0. 7 minutes before the end of the match Jan Kopic passed the ball to Michael Krmenčík who had an easy task – just to place the ball into an empty gate.
Plzeň beat Ústí nad Orlicí 3-0 and won their first match of 2018.
FC Viktoria Plzeň - TJ Jiskra Ústí nad Orlicí
Friendly match, Sun 7th Jan 2018, 10:30, Luční
Plzeň: 1st half-time: Sváček – Čihák, Hájek, Limberský – Živulič – Petržela, Ivanschitz, Čermák, Pilař – Bakoš, Chorý (C). 2nd half-time: Sváček – Havel, Hubník (C), Piroch, Kovařík – Hořava, Hrošovský – Zeman, Kolář, Kopic – Krmenčík.
Ústí n. Orlicí: Krátký (63. Truhlář) – Coufal, P. Chleboun (46. Jeníček), J. Chleboun (63. Skalický), Langer (81. Smejkal) – Nágl – Habrman (63. Pazdera), Falta, Souček, Smejkal (63. Kopecký) – Kukla (46. Chalupník).
Goals: 3. Petržela, 62. Kolář, 83. Krmenčík, Referees: Ardeleánu – Hrabovský, Kubec.
Fotogalerie
More articles from this category Aktuální zprávy