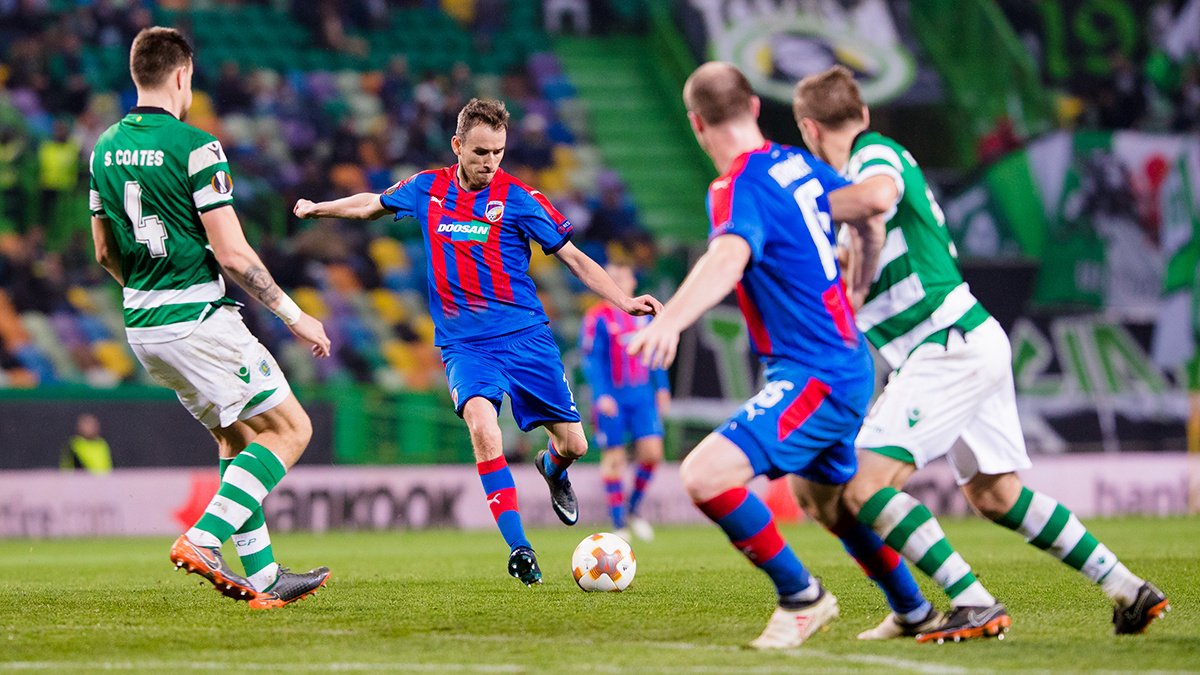 Viktoria lost in Lisbon to Sporting CP 0-2
On Thursday 8th March Viktoria Plzeň entered the round of 16 of the Europa League and they faced Sporting CP. This EL phase is Viktoria´s maximum what they have reached so far. The midfielder Jan Kopic could not join this match because of being ill.
Before the kick-off the half-full stadium held a minute´s silence for the Italian national team member and Fiorentina´s captain Davide Astori who suddenly died.
On 7 minutes Gelson Martins run to a centre pass in the penalty area but when falling he could not hit the ball. Soon after that Bryan Ruis shot after a free kick towards Hruška and Marcos Acuña appeared in even bigger chance on 22 minutes but hit only a crossbar when shooting from midfield. On 27 minutes Viktoria had the first chance of the match when Radim Řezník headed the ball but his attempt was slow and not accurate. The Portuguese club set the pace of the match. They possessed the ball and gave hardly any chance to Viktoria for fast breaks. On 40 minutes Fernandes shot on goal after a dangerous combination and 3 minutes later he repeated it. Acuña also had an effort on goal until the end of the 1st half as well as Montero who finally scored – 1-0.
As the 1st half finished, the 2nd one started. After Viktoria lost the ball Fredy Montero broke through the defence in front of the goal and shot to Hruška - he increased the score to 2-0. The coach Pavel Vrba reacted on that situation by a substitution of Tomáš Chorý instead of Milan Petržela. Sporting were craving for goals. After a pass from a side Ruiz shot to Hruška from a close distance and the goalkeeper rebounded it off. On 68 minutes Bruno Fernandes rushed along the right side right to the 18-yard box but face to face to Hruška he left defeated. The goalkeeper was more successful this time. On 75 minutes Jan Kovařík came to increase the offensive quality of his team and Daniel Kolář left the pitch. Kovařík immediately centred the ball to Tomáš Chorý. He was very close to hit it in front of the Sporting´s gate. Kovařík was very active and passed another ball to running Krmenčík moments later but he shot it above the gate. Plzeň tried hard to change the score before the end of the match becuase a scored goal at the opponent´s pitch would make their chances for the rematch better. On 82 minutes Martin Zeman passed the ball to Michael Krmenčík but he failed in shooting the ball on goal. At last Aleš Čermák substituted Zeman. On 87 minutes David Limberský was shown a yellow card so he lost his chance to show up in the home rematch. Hruška was busy in the additional time thanks to Mathieu.
Viktoria suffered a loss 0-2 from the capital of Portugal.
Sporting CP - FC Viktoria Plzeň 2:0 (1:0)
R16, Thu 8th March 2018, 21:05, José Alvalade Stadium
Sporting CP: Patrício (C) – Ristovski, Coates, Mathieu, Coentrão (85. Ribeiro) – Carvalho, Fernandes – Martins, Ruiz (78. César), Acuňa (57. Battaglia) – Montero.
Plzeň: Hruška – Řezník, Hejda, Hubník (C), Limberský – Hořava, Hrošovský – Petržela (62. Chorý), Kolář (75. Kovařík), Zeman (82. Čermák) – Krmenčík.
Branky: 45+1. Montero, 49. Montero, YC: Battaglia, Coates, Carvalho – Hořava, Limberský, Referees: Kulbakov – Zhuk, Maslyanko (all Belarus).
Fotogalerie
Related articles