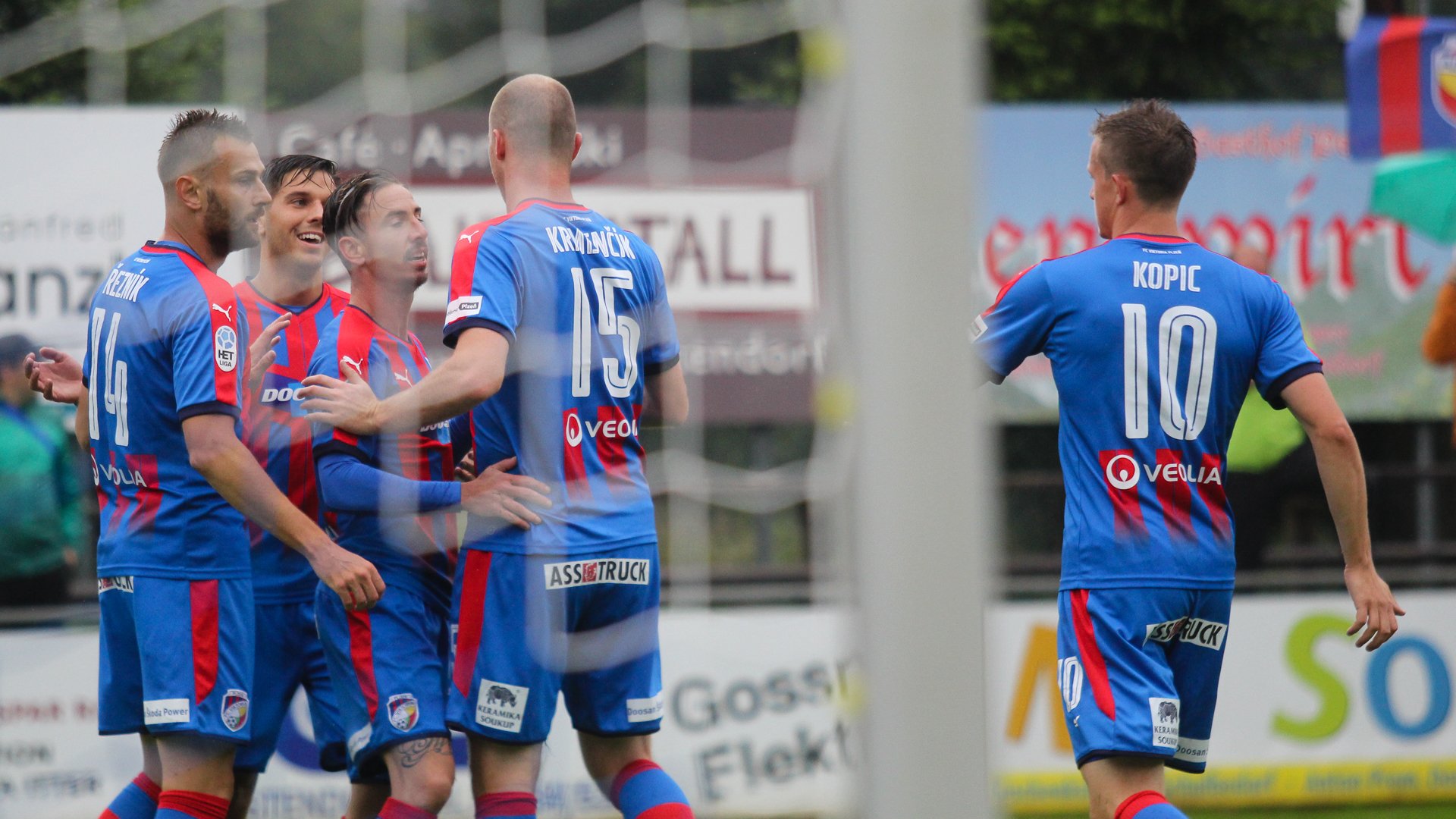 Viktoria won the opening friendly match in Austria: Plzeň v Grozny 4-0
Viktoria Plzeň played the first friendly match in Austrian pre-season week against Russian Akhmat Grozny. Pavel Vrba´s team had to deal with a rainy weather in Westendorf and they made it excellently.
Pre-season, Fri 6th Jul 2018, 17:30, Westendorf
Plzeň: Kozáčik – Řezník (62. Havel), Pernica, Hubník (C) (62. Hájek), Limberský (62. Kovařík) – Hrošovský (46. Hořava), Procházka (83. Štursa) – Petržela (46. Ekpai), Čermák (62. Kolář), Kopic (78. Zeman) – Krmenčík (62. Řezníček).
Grozny: Gorodov – Utsiev (C) (62. Gashenkov), Pliev, Bispo, Ángel – Ivanov (62. Sadaev), Roshi (78. Batcuev), Shvets (46. Doumbia) – Silva (66. Ferreira), Mitrishev (46. Berisha), Balaj (62. Musalov).
Goals: 8. Krmenčík, 31. Krmenčík, 44. Kopic, 58. Procházka, YC: Řezník, Pernica – Mitrishev.
Both teams entered the match very actively. Viktoria appeared in an opening goal chance of the match when Aleš Čermák shot on goal after Řezník´s corner but his attempt was stopped by the defensive line. On 8 minutes Plzeň got in leading. Řezník was there again when crossing the ball to Michael Krmenčík who had no problems to score – 1-0. On the other side Oleg Ivanov had an effort on goal but shot towards Kozáčik. Soon after that Odise Roshi aimed to threaten the goal, nevertheless, his shot was blocked by Roman Hubník. On 30 minutes Viktorians had two-goals leading – Jan Kopic passed the ball to Michael Krmenčík who added his second goal. With the half-time approaching Jan Kopic increased the score to 3-0.
Pavel Vrba substituted some players for the 2nd half – Ubong Ekpai and Tomáš Hořava went in instead of Petržela and Hrošovský. Right at the beginning Aleš Čermák shot on goal but it was rebounded by Gorodov on a corner. Moments later Roman Procházka kicked a rebounded ball on the lawn and scored – 4-0. On 62 minutes coach Pavel Vrba substituted 5 players – Havel, Hájek, Kovařík, Kolář and Řezníček all went on the pitch. 7 minutes later Ekpai checked Gorodov´s attention but his attempt was caught. 12 minutes before the end of the match Martin Zeman firstly appeared on the pitch in this season. Finally Ondřej Štursa also participated in the game.
Viktorians made it and in the first friendly match in Austria they beat Akhmat Grozny 4-0!
Pavel Vrba´s Commentary
As well as the match against Fürth last year this game was also played under persistant rain. "In spite of the weather the lawn was ideal and it helped us in the midfield combination," Pavel Vrba was pleased. "The first plus is nobody was injured. The second plus is the result, of course. In my opinion today´s match was the best one during our pre-season phase. We´re glad our performance is escalating and we´re on the way we want to be," the coach adds.
More articles from this category Novinky