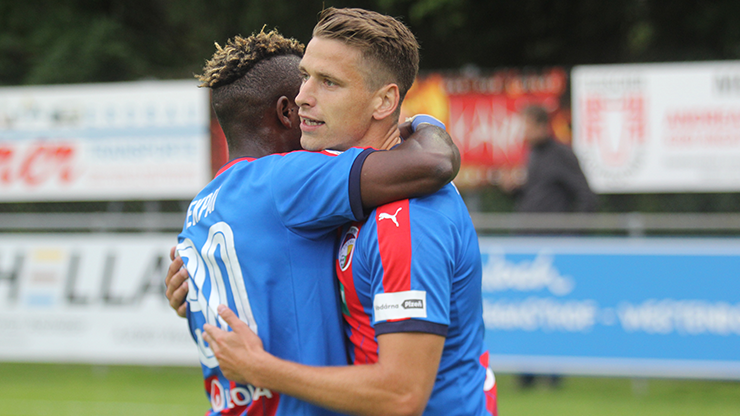 Viktoria remains unbeaten during pre-season phase
In their second friendly match at Waldstadion in Westendorf Viktoria met Austrian Wacker Innsbruck. Coach Pavel Vrba changed the starting line-up in comparison with the previous match with Akhmat Grozny. Viktoria won the match and remains unbeaten in the pre-season schedule so far.
Pre-season, Tue 10th Jul 2018, 17:00, Westendorf
Plzeň: Hruška – Havel (61. Řezník), Hubník (C) (61. Procházka), Hájek (61. Pernica), Kovařík (61. Limberský) – Ekpai (61. Petržela), Kolář (61. Bucha), Hořava (61. Hrošovský), Zeman (61. Kopic) – Bakoš (46. Chorý), Řezníček (61. Krmenčík).
Innsbruck: 1st half-time: Knett – Meusburger, Maak, Baumgartner – Schimpelsberger, Henning, Freitag (C), Vallci – Rakowitz, Dedič, Durmus.
2nd half-time: Wedl – Schimpelsberger (61. Hupfauf), Perič, Meusburger, Vallci (61. Buchacher) – Freitag (C), Kerschbaum (66. Henning) – Durmus (61. Rieder), Gabriele, Rakowitz (66. Zaizen) – Eler.
Goals: 14. Ekpai, 80. Petržela, Referees: Schörkhuber.
Crowd: 200.
Viktorians got in the opening chance of the match after a centre ball by Kovařík when Marek Bakoš had an effort on goal but he finally did not reach the ball. On 14th minute Plzeň got into the lead when Ubong Ekpai headed the ball in the net from Kovařík´s cross. The first dangerous chance of Wacker happened 11 minutes later when Henning passed to Stefan Rakowitz but his attempt was rebounded off the goal by Aleš Hruška. The rest of the half-time was very equalized and none of the teams created any bigger chance on goal. Both defensive lines were very organized.
In the 2nd half Marek Bakoš was substituted by a new father Tomáš Chorý. A few minutes later he had an effort on goal when he received a rebounded ball. Nevertheless, Innsbruck´s defence was careful as well as by following Hájek´s rebound. 61 minutes into the game coach Vrba substituted 9 new players including new signing Pavel Bucha. Viktorians tried hard to score the second goal, for example Krmenčík was very close to scoring but the goalkeeper Lukas Wedl caught his shot. On the other side Florian Buchacher shot far above the crossbar. With 10 minutes to go, Viktoria added their second goal thanks to a great solo run by Milan Petržela.
Viktoria won the second friendly match in Austria!
Dušan Fitzel´s Commentary
"It was a very interesting match from our side," the coach assistant said after the final whistle. "Our opponent forced us to an up-and-down style of game. Wacker played with three defenders, which was very interesting. Despite this fact we made it through the match without any major faults, we scored two goals and could have added even more. The opponent did not have many goal chances as our defense worked well," Fitzel was satisfied.
Fotogalerie
More articles from this category Novinky