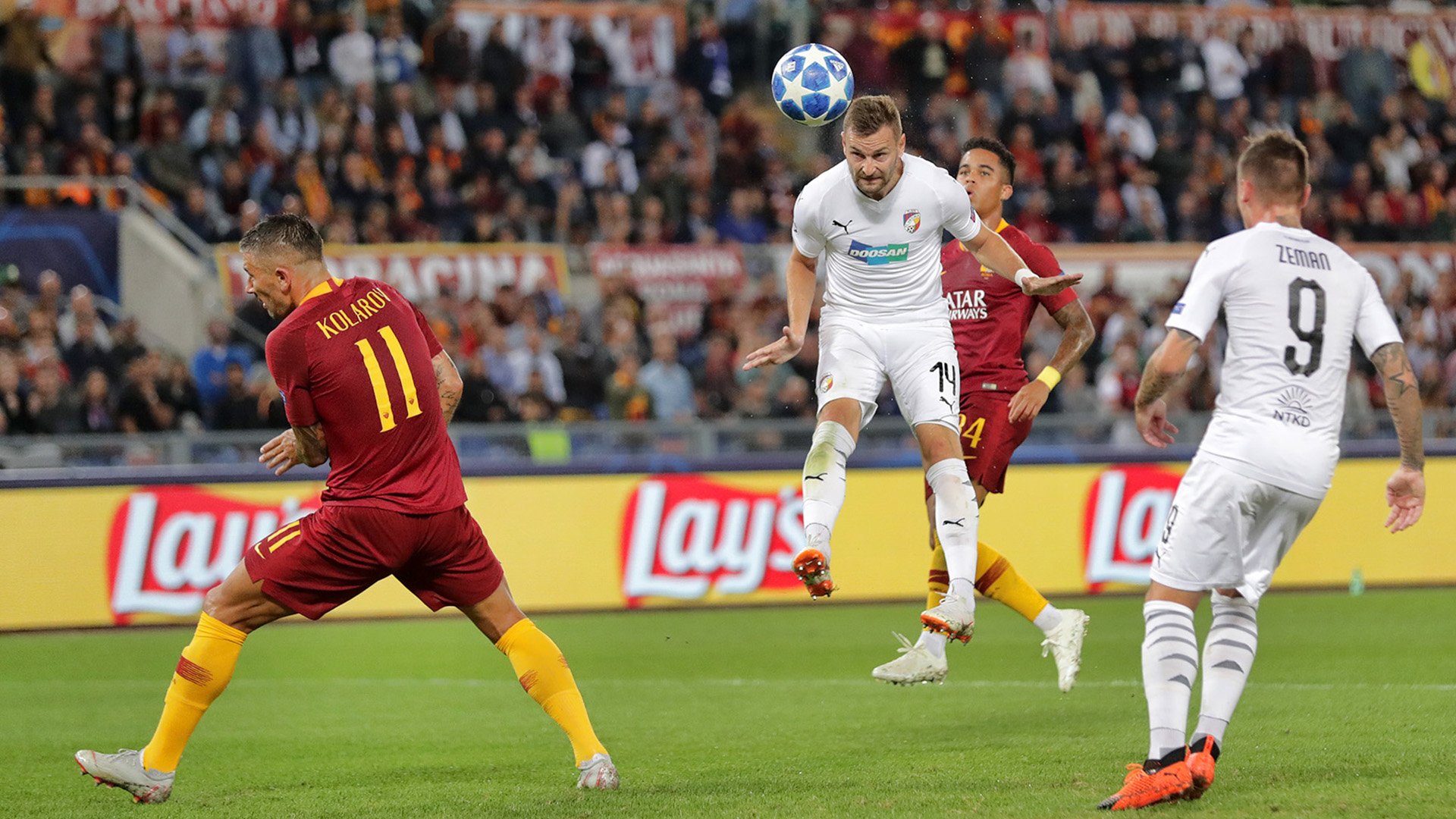 AS Roma were the better side on Tuesday night, Džeko scores hat-trick
Pavel Vrba used the same starting line-up for the game at Stadio Olimpico as on Friday against Sparta Praha. He only replaced Zeman for injured Kopic. The hosts started the game better and put Plzeň under early pressure – namely Edin Džeko who scored a 3rd minute opener and who also closed the score when finishing his hat-trick. The final score was 5-0.
2nd round, Tue 2nd Oct 2018, 21:00, Stadio Olimpico
AS Roma: Olsen – Florenzi (C), Fazio, Juan Jesus, Kolarov (76. Lu. Pellegrini) – Cristante, N'Zonzi – Ünder (76. Schick), Lo. Pellegrini (75. Zaniolo), Kluivert – Džeko.
Plzeň: Kozáčik – Řezník, Hejda, Hubník (C), Limberský – Procházka, Hrošovský – Zeman (71. Ekpai), Hořava (64. Kolář), Kovařík – Krmenčík (78. Řezníček).
Goals: 3. Džeko, 40. Džeko, 64. Ünder, 74. Kluivert, 90+2. Džeko, YC: Schick – Hejda, Referees: Raczkowski – Obukowicz, Litskiewicz (POL), Attendance: 41,243.
Edin Dzeko, who is extremely successful against Plzeň, proved his top quality soon after the kick-off. This time he had an effort on goal in the 3rd minute as he accepted a brilliant pass behind defense and struck the ball past Kozáčik from sharp angle.
Plzeň could change the score 10 minutes later when Kovařík sent a cross in the box to Krmenčík. The two-goals scorer from UCL matchday one fired it just above the crossbar. Řezník also had a great opportunity after a pass by Hořava but his header ended up wide as goalkeeper Olsen just watched motionless.
The hosts had a good effort on goal again. Cengiz Ünder stopped the ball in the midfield and sent a blistering shot towards goal with his left foot. His attempt bounced back from the top bar. 5 minutes before the half-time Edin Džeko excelled again. He chested Ünder's cross down in the box and pulled out an exquisite volley shot for his second of the night.
Viktoria had a cautious start of the second half with players more focused in defense. 15 minutes into the half, they had first good opportunity. However, Krmenčík wasn't sure enough to shoot himself and Procházka's attempt aimed only into the gloves of Olsen.
With the end of the match approaching Cengiz Ünder scored one as well. He remained totally clear on the right wing side of Plzeň's box, got a perfect pass and could easily put the ball behind Kozáčik. He had another chance in the 75th minute but Kozáčik made a save on his shot. Unfortunately, the ball fell right to the feet of Kluivert who easily placed it behind the goal line – 4-0 for the hosts.
Edin Džeko finished the desolation with his third goal in stoppage time, completing his hat-trick he closed the scoreline at 5-0.
Pavel Vrba's Commentary
"Our opponent was definitely better and fully deserved the win," the coach Vrba said after the match. "We conceded an early goal. Then there were two situations in which we could have equalized and didn't do so. However, I still think the match was obviously fully under control of Roma," he added. "At first, Krmenčík missed the target and then Řezník had a great opportunity on his head but you could see yourself what difference it is between our team and Roma's players," Vrba said.
Fotogalerie
More articles from this category Novinky