Ploiești - Plzeň 1:1 (0:0)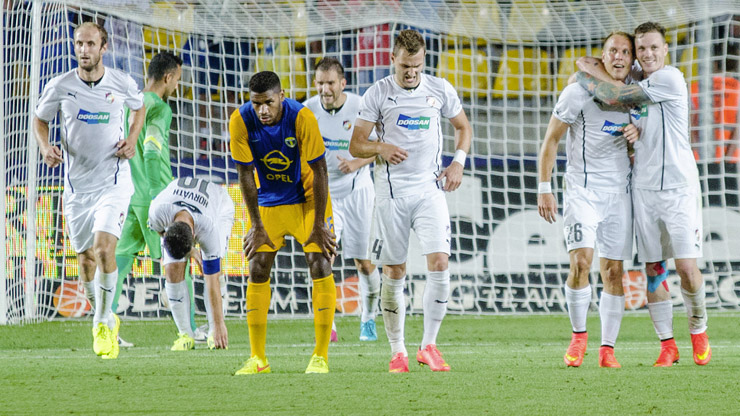 Viktoria Plzeň entered current season of the Europa League with Ploieşti in Romania.
Q3, Thu
31. 7. 2014
, 20:00
Ploiești: Pecanha - Alcénat, Geraldo Alves, Gerson, Fanchone - De Lucas, Hoban - Nepomuceno (74. Priso), Albín (56. Mutu), Teixeira - Tamuz (87. Nkoyi). Trenér: S. Lucescu.
Plzeň: Kozáčik - Řezník, Hubník, Procházka, Limberský - Hořava (86. Kolář), Horváth - Petržela (75. Hrošovský), Vaněk, Pilař (82. Kovařík) - Bakoš. Trenér: Uhrin ml.
Branky: 75. Mutu - 90+1. Kolář. ŽK: Albín, Priso - Hubník, Řezník. Rozhodčí: Taylor - Beswick, Brooks (všichni ENG).
Audience: 14000.
Viktoria Plzeň entered current season of the Europa League with Ploieşti in Romania.
The first serious threat of Petrolul´s goal was on 5 minutes of the game when Vaněk had an effort on goal. On 9 minutes forward Tamuz run alone against the goalkeeper Matúš Kozáčik but he was ready and destroyed his attempt. On the other side, Bakoš was dangerous, too. He missed Petržela´s centre only for a few centimetres. The game was up and down and both teams tried to score the first goal and hold the longer end of the rope. However, Viktoria´s fans could not be satisfied because the home team possessed the ball and the game at that moment. On 25 minutes the goalkeeper Pecanha was busy because of Horváth´s centre but Procházka nor Bakoš did not hit it. Václav Pilař also appeared in promising chances but was not able to score. Both teams were craving for goal and were active to do so but the result after the 1st half was 0:0.
At the beginning of the 2nd half it was obvious that both teams were instructed by their coaches to be active and self-confident. On 59 minutes Marek Bakoš flew to the goalkeeper from the left side but he was careful and saved it. The home team appeared in a promising chance on 67 minutes when Hoban shot on goal but he was blocked by Procházka. On 71 minutes Pecanha was checked by Bakoš but again, the goalkeeper was ready. On 74 minutes Dušan Uhrin used his first substitution, Milan Petržela went out, Patrik Hrošovský in. Soon after that Mutu scored! The home fans burst out of joy when their team went in leading 1:0. The goal made all the players on the pitch alive and they became more active. 11 minutes till the end of the match Hořava and Hrošovský cooperated and tried to make the score equal but their passes were not precise and their combination went into the slow lane. Viktoria put pressure at the end of the match and tried hard to score. Finally, newly-coming Daniel Kolář made it! In aditional time he scored after Kovařík´s centre pass and soon after that the match was finished. The match ended in a tie 1:1.
Photogallery
Related Articles