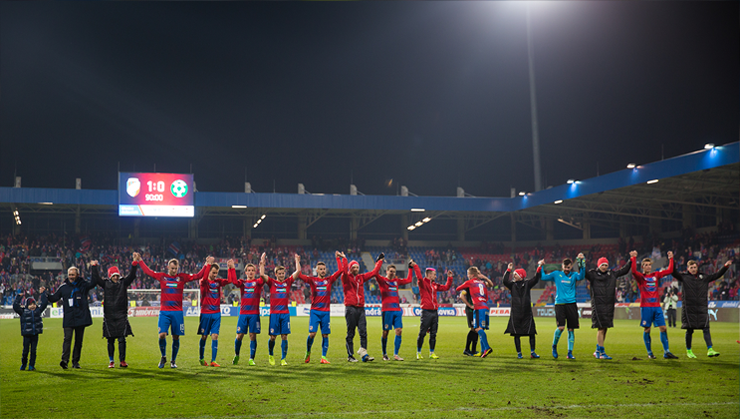 ​Viktoria won the first spring match over Příbram 1-0
On Saturday 18th February the Doosan Arena welcomed the 17th round match of the ePojisteni.cz League and they faced 1. FK Příbram. Before the kick-off the fans at the stadium could enjoy two festive moments, the first one was the 80th birthday of a living legend Jiří Lopata and then the Viktoria´s coach Roman Pivarník received congratulations to his 50th birthday.
The first chance of the match was seen soon after the kick-off. On 3 minutes Lukáš Hejda attempted to hit the ball after a corner but the goalkeeper Hruška was ready. In the following minutes Plzeň possessed the ball most of the time but they had problems to get close to the opponent´s gate. On 18 minutes Petržela made Hruška busy but it did not cause many problems. 10 minutes later Petržela and Řezník performed a great action on the right side. After a centre pass Tomáš Poznar headed the ball towards the goalkeeper only. On 38 minutes the stadium saw another chance, this time directed by Andreas Ivanshitz, however, he sent his shot off the goal. Moments later Kovařík tried to lob the ball over Hruška but missed the target. Viktoria were more active in the 1st half but they could not score a goal.
Kovařík had an effort at the beginning of the 2nd half but the goalkeeper stopped him. Several moments later Kovařík rushed in the 18-yard box and passed the ball to Andreas Ivanschitz who hit the crossbar. On 50 minutes Matúš Kozáčik also joined the game when being threatened by the forward. On 65 minutes the coach Pivarník made the first substitution of the match. The midfielder Ivanschitz was replaced by the forward Krmenčík. It took only 5 minutes for Krmenčík to score. Milan Petržela found three of his teammates in front of the gate and Krmenčík accurately hit the ball – 1-0! 2 minutes later a former Viktorian Jan Rezek appeared in front of the gate but Kozáčik rebounded his attempt. On 74 minutes Milan Petržela was substituted by Jan Kopic. On 86 minutes Tomáš Poznar was replaced for Jakub Hromada.
FC Viktoria Plzeň - 1. FK Příbram 1:0 (0:0)
Plzeň: Kozáčik - Řezník, Hejda, Hubník, Limberský - Hořava, Hrošovský - Petržela (74. Kopic), Ivanschitz (65. Krmenčík), Kovařík - Poznar (86. Hromada)
Příbram: Hruška - Lupták, Chaluš, Jiránek, Divíšek - Tregler, Rezek - Bazal (82. P. Pilík), T. Pilík, Kukec (85. Ayong) - Linhart (71. Krameš)
Goals: 70. Krmenčík YC: Ivanschitz - Tregler, Bazal, Ayong Referees: Franěk - Wilczek, Koval
Crowd: 8876.
Fotogalerie
Related articles