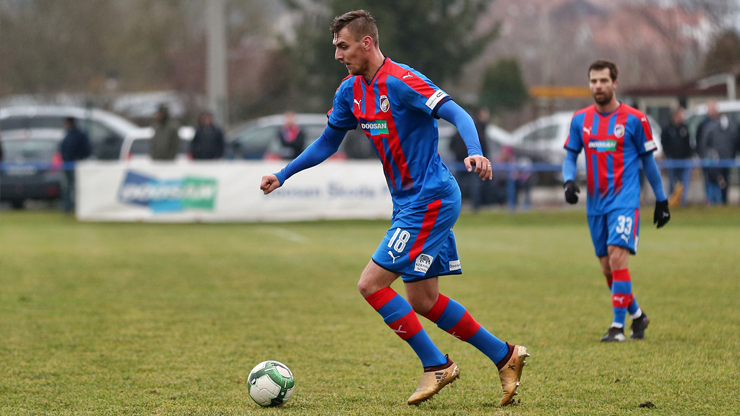 Tomáš Chorý: It´s a pity I didn´t score in my first match here
​He played his premiere match for Viktoria. The newest reinforcement Tomáš Chorý played the first match for Viktoria against Ústí nad Orlicí. He was chosen as the captain in the 1st half but did not spice his performance by a goal. He evaluated the match together with the coach Pavel Vrba.
The new reinforcement always plays as the captain. "Of course, I don´t mind. It´s the cherry on top and I´ll be glad to give the team a joining fee," the forward is smiling. "I´m so happy to play for Viktoria. In my opinion, it´s the best Czech club currently. To have these teammates, it´s incredible feeling. I hope I do well," he adds after the 1st half.
He made a goal chance in the 1st half but did not score. "Unfortunately not. I could have spiced my introduction by a goal but I failed. Nevertheless, as I said I´m excited to play for this team. It´s a goal of every footballer," Tomáš Chorý adds.
The coach Pavel Vrba said Chorý has to get used to the new game style. "He´ll have to adjust to our game, which always takes a while. We expect he´d become the striker and will score more than today. He has the prerequisites," the coach says.
He was quite happy with the match, he only missed more goals. "On the contrary, Ústí played an interesting match, they seemed very organized. They wouldn´t deserve a higher loss," Vrba confesses. The coach tried a new game scheme in the 1st half 3-1-4-2. "We´ll have to train more. We´ve got plenty players and we don´t want them to play at unaccustomd positions," he explains.
Fotogalerie
More articles from this category Aktuální zprávy