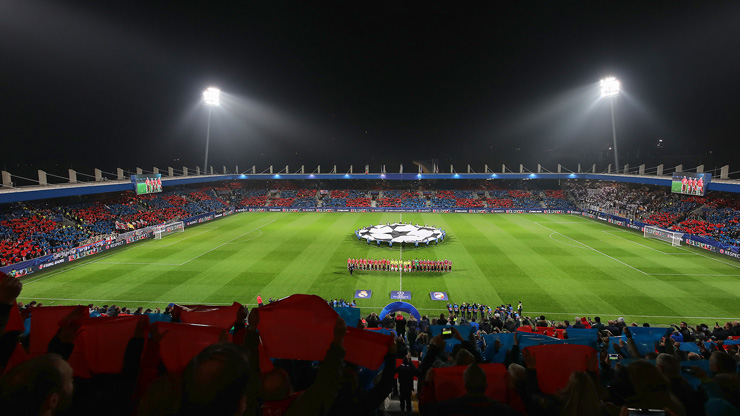 Tickets for AS Rome match are in public sale!
12th December 2018, 18:55, Doosan Arena, Plzeň. Viktoria's stadium will become a venue of the UEFA Champions League again when hosting AS Rome to play a group stage match against Viktoria Plzeň. Over 1,000 tickets have been released for public sale, they are available since Wednesday 14th November.
Edin Dzeko, Aleksandar Kolarov, Daniele De Rossi, Justin Kluivert, Patrik Schick and others. Such football stars will come to Plzeň – AS Roma is coming in December! "We're expecting a football holiday, we look forward to welcome such high-quality opponent," the skipper Roman Hubník says. "We hope our fans are there and we say a respectable goodbye to UCL group stage. We still believe in playing a spring part and we're gonna fight for it, the match against Rome can be very important," he adds.
Viktoria faced Roma at the home stadium in UEFA Europa League earlier and they tied 1-1. We will welcome the last UCL season semifinalist here again and this time in the UEFA Champions League group stage. The sale has started on 14th November at 1 p.m.!
The tickets are offered in four price categories for 1,250, 1,700, 2,350 and 3,150 CZK depending on the type of category. The sale has started on 14th November in Viktoria shop.
Let's come and enjoy another extraordinary football evening at Viktoria's stadium. We will be honoured to host the UEFA Champions League match and will have a chance to show the whole football Europe how great we can support here. We'll become a heart of Czech football for the night so nobody can miss it!
SALE SCHEDULE
working days 9:00 – 17:00 (club's fanshop)
TICKETS PRICES
| | |
| --- | --- |
| Category 1 | 3,150 CZK |
| Category 2 | 2,350 CZK |
| Category 3 | 1,700 CZK |
| Category 4 | 1,250 CZK |
More articles from this category Novinky