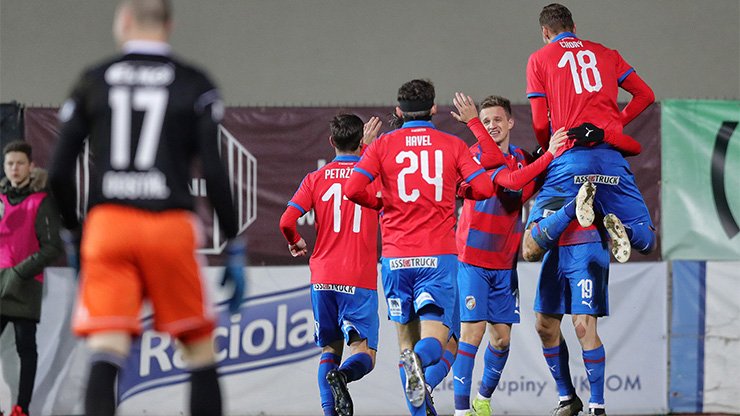 Early two-goals lead determined Viktoria's win over Zlín
Pavel Vrba had to change mainly defence for the match against Zlín because he missed injured Limberský and Řezník as well as punished Hejda. Kovařík and Havel repaid coach's trust soon. In the 4th minute Kovařík passed to empty Chorý who opened the match by the first goal. Afterwards Kovařík himself scored an amazing goal after Havel's crossed ball. Viktoria secured the two-goals leading until the end of the match.
18th round, Fri 7th Dec 2018, 18:00, Letná stadium
Zlín: Dostál – Bačo (84. Železník), Buchta, Gajič – Matejov, Podio, Jiráček (C), Bartošák – Hronek, Vyhnal, Holík (79. Jakubov).
Plzeň: Hruška – Havel, Pernica, Hubník (C), Kovařík – Petržela (76. Ekpai), Hrošovský, Čermák (81. Hořava), Procházka, Kopic – Chorý (89. Řezníček).
Goals: 3. Chorý, 8. Kovařík, YC: Matejov, Jiráček – Petržela, Referees: Lerch – Kříž, Myška.
Attendance: 3472.
Viktorians had a bright start of the match when Kovařík run to a long ball by Čermák behind the defensive line, he crossed it into the box to Tomáš Chorý and he knew what to do. He scored his second goal in the second match in a row.
This perfect start continued. Right in the 8th minute Havel found Kovařík on the other side of the box, he quickly volleyed the ball under the crossbar of Zlín's goal and Viktoria was leading 2-0.
Nothing dangerous happened in front of any goal so the fans had to wait for another bigger chance until the 2nd half. About 60 minutes into the game Viktorians were awarded a free kick about 20 metres far from the goal. Jan Kovařík took it and tried to kick the ball over the defensive barrier to right upright but the goalkeeper Dostál was ready and rebounded the ball off the goal.
Soon after that Aleš Hruška's attention was checked by Bartošák's long-distance attempt, however, the goalkeeper hit the ball on a corner. Plzeň had several interesting counterattacks later but none of them ended in net. Viktoria secured the two-goals leading and won 2-0.
Jan Kovařík's Commentar
"We had an excellent first half and it should be like that all the time," Kovařík said. "I was surprised how great everything settled down because it was my first goal by right foot out of like 230th match (he is smiling). It flew a long way, I didn't know how to react first but finally I decided as I did and it was good," he described happily.
Fotogalerie
More articles from this category Novinky