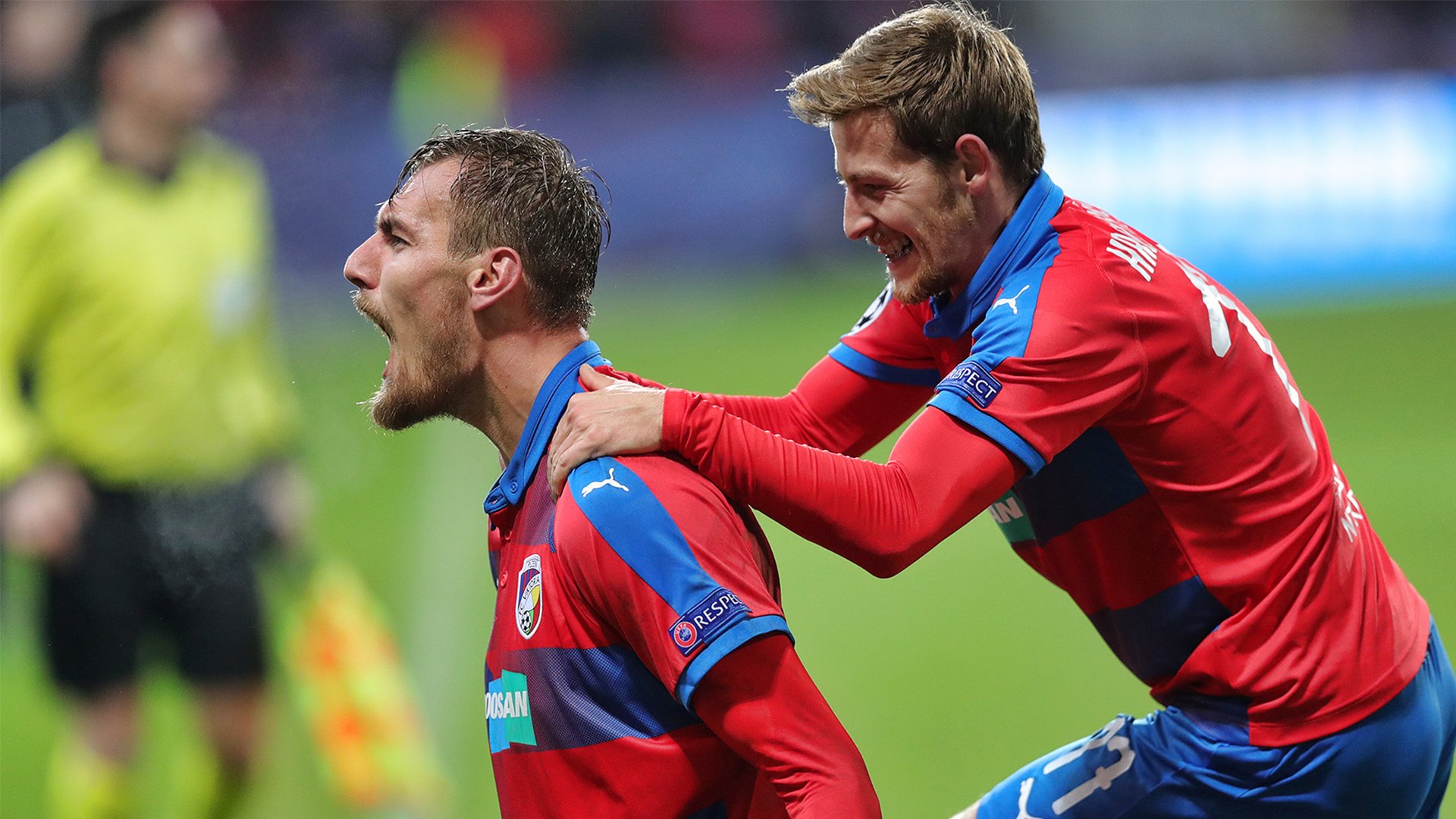 They made it! Viktorians beat AS Rome to seize Europa League spring
Amazing! Viktorians won the last UCL group stage match against AS Rome 2-1 and secured their spot in spring part of the UEFA Europa League. Tomáš Chorý scored the winning goal in the 72th minute.
6th round, Wed 12th Dec 2018, 18:55, Doosan Arena
Plzeň: Hruška – Havel, Hejda, Hubník (C), Limberský – Procházka, Hrošovský – Kopic (71. Petržela), Čermák (81. Hořava), Kovařík – Chorý (86. Řezníček).
AS Rome: Mirante – Santon (75. Florenzi), Marcano, Manolas (C), Kolarov – Cristante, Nzonzi (79. Lu. Pellegrini) – Cengiz Ünder, Kluivert, Pastore (59. Zaniolo) – Schick.
Goals: 62. Kovařík, 72. Chorý – 68. Cengiz Ünder, YC: Limberský – Kluivert, Lu. Pellegrini, 2nd YC = RC: 90+2. Lu. Pellegrini, Referees: Taylor – Beswick, Nunn (all England).
Attendance: 11,217.
Roman Hubník appeared in the opening chance of the match but after a crossed ball by Patrik Hrošovský he shot only above Antonio Mirante's crossbar. In the 25th minute Viktoria performed a nice action when they combined the ball to one touch only. The whole action was finally finished by Milan Havel, however, his attempt was blocked by the defensive line. Soon after that Jan Kovařík had an effort on goal but missed the target.
The first half an hour looked more or less the same. Viktoria tried to produce a dangerous action but it was hard for them to get over well-defending Romans. Jan Kopic later found Tomáš Chorý with his pass but the tall forward was stopped by defence and the rebounded ball was kicked in the box by Roman Procházka, nevertheless, the Italians turned the dangerous action away.
In the 39th minute the fans could see the biggest action of the half time. Kovařík crossed the ball into the box and Chorý lacked just inches with his slide! It was a shame because the opponent's goal was wide open.
Viktorians entered the second half very actively. Milan Havel crossed the ball to Tomáš Chorý's head who prolonged it to Mirante but the experienced goalkeeper had no problems to save his attempt. Afterwards Patrik Hrošovský shot on goal as well but was not successful.
In the 56th minute Aleš Čermák had an effort on goal but his right-foot shot flew above the crossbar. Viktorians were finally awarded with a goal. Jan Kopic crossed to Kovařík who only placed his foot and Štruncovy sady stadium burst out of joy – 1-0!
Rome found a quick response. Cengiz Ünder shot from the edge of the box and the ball went behind helpless Hruška. However, Rome did not celebrate long! Jan Kovařík got an ideal pass from Patrik Hrošovský and went for a quick finish on Mirante. Roma's goalkeeper kicked it away, but only towards Chorý, who managed to head it in.
Milan Petržela had a following 100% goal chance in order to jump to two-goals lead when perfectly dealing with a long distance crossed ball, he beat his defender but his final shot went wide.
Finally, Plzeň did not have to regret the previous situation! Viktoria hold on to their 2-1 lead until the end of the match and thanks to their second group stage victory they advanced into the spring part of the Europa League. Plzeň experienced another unforgettable moment of the club's history.
Jan Kovařík's Commentary
"Because it was a goal in the most prestigious league in the world I rank it the highest. I enjoyed it so much. I focused a lot to shot on goal and then I didn't want to stop the run so I just jumped in the net," he was smiling. "When I was leaving in the half-time break I heard Moscow was ahead by 2 goals. We told ourselves we have to keep the match pace, defend well, try some counterattacks and the chances will come. They did and we turned two of them into goals," he was pleased.
More articles from this category Novinky