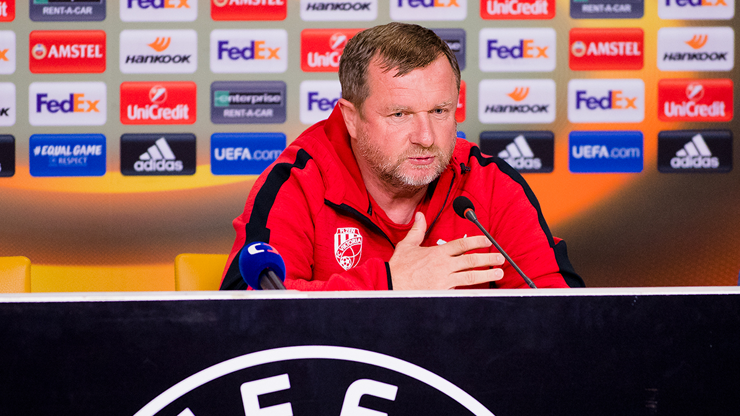 ​I believe we´ll redress today´s match, Pavel Vrba says
Viktoria lost the first match of the EL group stage in Bucharest against FCSB 3-0. In Pavel Vrba´s oppinion on of the key factors was a low success in personal fights.
"The home team was stronger in personal fights. They made it to score after two free kicks and once they punished us after a fast-break. That´s why the result is as it is," the coach Pavel Vrba evaluates the match.
Viktoria were the first team that appeared in the first chance. On 19 minutes Milan Petržela was alone in front of the goalkeeper and hit only the crossbar. "1 minute before the penalty kick we had a 100% goal chance but failed in that. These are the moments that decide matches. Our opponent played wisely, they were stronger and punished us. The first goal is always very important and it was confirmed today, too," Vrba says.
"I didn´t have the feeling that our players were afraid of the match at the beginning. We started actively and I dare to say until the 20th minute we were a better team," the Viktoria´s coach reacted on the journalist´s questions.
Viktoria were not able to win over FCSB for the third time in a row. "The play-off matches are different than those ones at a group stage. If you play for the Champions League, every goal counts. The group situation is different. I believe we´ll redress today´s match," Pavel Vrba closes.
Fotogalerie
More articles from this category Aktuální zprávy